Canadian airline WestJet continues plotting an "ambitious growth strategy" with an expanded summer schedule that includes greater flight frequencies to popular destinations in its network.
The Calgary-based carrier said on 6 March that it anticipates nearly 600 daily departures across its network during the upcoming peak of summer travel in the northern hemisphere, thanks to a 64% increase in seat capacity to and from Regina and seat capacity increases of more than 40% to and from Edmonton, Saskatoon and Winnipeg.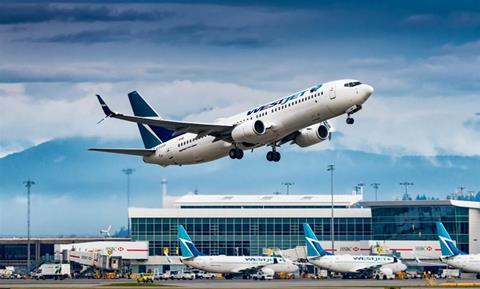 "Providing our guests with even more opportunity to travel across our network this summer comes as a result of a thoughtfully designed schedule that balances the high demand for travel alongside a reliable and resilient operation," says John Weatherill, WestJet Group's chief commercial officer. "With more seats available for booking and added capacity on popular routes, our summer schedule reflects a strengthened commitment to providing seamless domestic and transborder connectivity for our guests."
WestJet will operate 11 weekly flights between Edmonton and Las Vegas during the peak of summer air travel, compared with four weekly flights last summer. The Calgary-based carrier will also increase the number of flights between Edmonton and Los Angeles, and between Calgary and Denver, Houston and New York. The airline is also boosting the number of domestic fligths from Calgary, Edmonton and Vancouver.
The carrier will operate 20 weekly flights between Edmonton and Winnipeg, compared with six weekly flights in summer 2022.
WestJet's expansion plan is part of a broader strategy shift, first rolled out last year, through which WestJet is re-focusing on western Canada.
The airline plans to launch 20 new routes and three new destinations this summer, it said in February. New nonstop service will be available to Washington's Dulles International airport, Detroit and Minneapolis. The carrier has also added new flights to Atlanta, Austin, Chicago, Nashville and Seattle. The new flights will start between 30 April and 30 June.
Operating a fleet of Boeing 737NGs, 737 Max and 787 Dreamliners, WestJet plans to expand its long-haul network with flights from Calgary to Tokyo's Narita airport – its first destination in Asia – and new flights to Barcelona and Edinburgh.