Virgin Atlantic chief executive Shai Weiss believes there remains opportunity for the carrier to fly leisure routes from London Gatwick, but he rules out a return of operations from the airport this year.
The airline had been flying to a number of leisure destinations in the USA and Caribbean from Gatwick prior to the pandemic.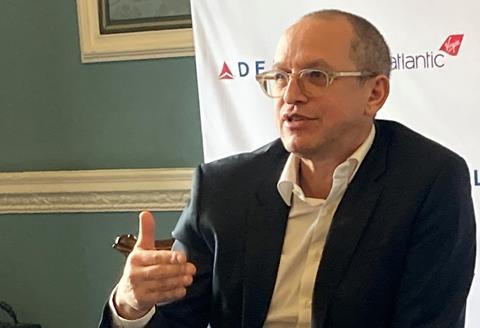 "What we had to do during the crisis was make big decisions. One of them was to consolidate our operations at Heathrow," Weiss said during a press briefing in London on 15 March. The airline hosted the briefing with joint venture partner and minority shareholder Delta Air Lines.
"This is where our business hub is, this is where we connect with other carriers, and this where people want to fly.
"Traditionally, we have flown leisure routes out of Gatwick and we have slots at Gatwick and we would like to think there is an opportunity for Gatwick. But it's not this year," he says.
Virgin has rebuilt its pre-pandemic network from Heathrow. "We are back, as of last week, to all destinations in the United States, with Washington Dulles and Seattle," Weiss says. He adds that Virgin Atlantic in August will begin flying from Heathrow to Austin, its first new US route in seven years. "Together with Delta we believe the joint venture is extremely strong," he says.