In the depths of the Second World War, teams of American soldiers with unique sets of skills and specialties were sent behind enemy lines around the world to gather information and solve troublesome situations for the Allies in the war theater. Their commands came from the predecessor of today's Central Intelligence Agency – it was called the Office of Strategic Services, or OSS for short.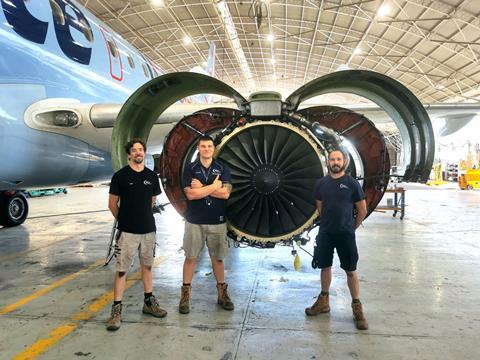 In a similar way, MTU Maintenance uses its own experts and crews of specialists with unique skill sets to solve troubles for airlines and other operators of aero engines. As a collective, the undertaking is known as ON-SITEPlus services, or to use the more common term one hears around MTU's shop floors and offices globally: OSS. On short notice, a small crew of engine experts can deploy to almost any spot on the globe and sort out an operator's technical issues in record time. The recent past at MTU has been marked by a strategy to boost its global maintenance capabilities for on-site work. However, what MTU offers is not just simply a dispatch service for mobile mechanics.
As the market leader in customized solutions for aero engines, MTU also bolsters its digital intelligence by collecting data from shop visits, remote engine trend monitoring (ETM), and from customers. With its in-house developed software CORTEX, the company can use some of that data or all of it, and contextualize it with the help of artificial intelligence to give customers a detailed picture of the MRO needs for their fleet.
The central goals of this synergy between the physical and digital: To get ahead of engine problems before they occur and to find the most cost-optimized solutions for customers. At present, supply chains constraints for aero engine parts push shop visit turnaround-times higher and having a clear picture what condition an engine or an entire engine fleet is in, can help cut significant spending on maintenance work.
Doing a smaller workscope on-site not only diminishes the cost, it keeps the operator flying without having to wait for a slot at a full-fledged MRO shop.
Stay put: MTU will come to you
The mission of ON-SITEPlus services is two-fold, to either conduct preventative maintenance work on-site or at a dedicated level 1 MTU shop within close customer reach, or to go to a grounded engine and find a solution to whatever problem is keeping it from flying.
Whenever possible, the maintenance work or repairs are done on-wing — a form of on-site service in which the engine is repaired without having to be removed from the aircraft wing first. The main advantage of this repair procedure is that it saves the cost of an engine exchange, which needs to be organized and adds up to the cost. It is also the fastest way to fix a problem.
This starts with the initial contact with MTU. To ensure that customers around the world can hire this service without delay, MTU has set up highly qualified ON-SITEPlus service teams at locations in Brazil, Canada, the U.S., Germany, China, and Australia. An around-the-clock on-call service ensures that the teams are ready to roll as soon as a customer reports engine damage that calls for immediate repairs. MTU's customer service organizes the deployments, including all technical, logistical and customs handling.
On the other hand, if the maintenance work happens to be preventative in nature, MTU experts would contact the customer and advise them that a specific workscope can be performed on-site, typically in order to prevent further damage in the wake of an ETM alert, to save costs or to simply extent the engine on-wing time until the next off-wing shop visit.
"We serve customers on their first inquiry, even if they don't yet have a contract with MTU Maintenance — and we respond to every call in a quick and reliable manner," says Arne Straatmann, Director of ON-SITEPlus services. "Our primary aim, is to ensure smooth engine operation for our customers by implementing the best solution either on-site or in one of MTU's worldwide shops."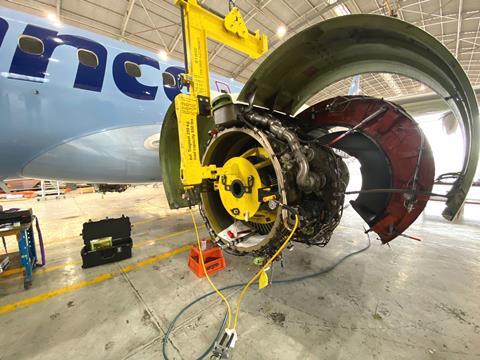 For instance, in March, a team of three mechanics from the MTU Maintenance Service Centre Australia in Perth flew to Adelaide to replace the number one bearing seal on a pair of CF34-10E engines for an existing Australian customer. The airline specializes in charter flights for the resource industry in the country and time was of the essence. What made the job so special is that it was done in just four days and on-wing, in a procedure which was developed by MTU engineers back in 2020. Until then, it was deemed impossible to complete the job without taking the engine off the wing first, which is much costlier for a customer, as it requires a broader workscope and, therefore, also more time.
Just weeks before, MTU's location down under obtained its Part 145 approval from the Civil Aviation Safety Authority (CASA) for CF34-10E engines. Since its founding in 2014, the shop had primarily operated as a Level 2 field service center in a similar on-site manner for industrial and marine gas turbines, specifically for GE Gas Power's LM2500 and LM6000. Its foray into aviation with the CASA certification makes the location now the only on-site services provider for aero engines in the South Pacific region.
MTU Maintenance beefs up its on-site network capabilities
Over the last three years, MTU Maintenance has been strategically expanding the capabilities and capacities of its global ON-SITEPlus network, as a way to be more flexible in the services it offers and to meet customer demands for this type of maintenance work. The fallout from the travel bans and grounding of fleets due to the outbreak of the corona virus accelerated this process.
In the first quarter of 2023, MTU will not only have expanded its ON-SITEPlus capabilities in the South Pacific region, but it will also have moved its U.S. location outside of Dallas, Texas, to a brand-new 430,000sq.ft (43,000sq.m.) facility at the Dallas-Fort Worth International Airport, from where it will be able to provide broader and more enhanced on-site services to the North American market than before. The company is the largest provider of on-site services within MTU's network and holds approvals from the American Federal Aviation Administration (FAA), the European Union Aviation Safety Agency (EASA) and multiple other regulatory bodies for work on CF34, CFM56 and V2500 engines, as well as for the CF6 and the GE90, among others. The new facility will also feature an engine test cell with up to 100,00lbs of thrust, a milestone for MTU Maintenance Dallas once it is correlated and up and running.
Further south in São Paulo, MTU Maintenance do Brasil in now a dual-release level 1 shop for work on the CFM56 after being approved by the FAA last February. It already had EASA certification for that engine type. With certifications from the Brazilian Agência Nacional de Aviação Civil (ANAC) and EASA, the shop offers maintenance services for V2500, CF34-10E, CF6-80C2 and GE90 engines, as well.
"These new approvals for our ON-SITEPlus network are another important step in achieving MTU's vision to keep growing our on-site services for aero engines, by providing the right capabilities in the right locations," says André Sinanian, Managing Director & Senior Vice President at MTU Maintenance Berlin-Brandenburg, who is also responsible for MTU's company-wide global on-site and field service network.
However, some repairs can't be done on-site and every now and then, an engine does have to come in for a hospital shop visit. During one such visits, the engine is only partly disassembled, repaired, put back together, and tested. The MTU location in Ludwigsfelde, just south of Berlin, Germany, already has many years of on-site service experience and expertise. Each year, its experts perform hundreds of jobs in the shop and on-site for the CF34, Pratt & Whitney's PW200, PW300, PW500 and PT6, as well as for the LM series industrial gas turbines.
MTU Maintenance Berlin-Brandenburg is currently being expanded to become the central point from which MTU provides on-site services for Europe. At the end of 2021, a new 13,000sq.ft (1,200sq.m.) dedicated facility went into operation. Five special engine docks for smaller or particularly urgent jobs, known as quick-turn docks, and a highly-qualified team are on hand to get CF34-8/10, PW800, and CFM56-5B/-7 engines back in working order as quickly as possible.
"What we do here doesn't replace major shop visits," says Jan Bierkamp, who heads MTU's ON-SITEPlus services Europe site in Ludwigsfelde. "Our service team specializes in minor repairs between the more extensive shop visits. Our aim is to reduce down-times and overall costs for our customers, as well as to extend the service life of their engines."
The service portfolio that can be performed during regular on-site or near-wing deployments includes borescope inspections, minor repairs such as boro-blending on high-pressure compressors, as well as top case repairs or even the replacement of entire modules. These services can be upgraded or supplemented with additional in-shop heavy maintenance, material management, or spare engine and logistical support, if required.
Intelligent data to map the future
There are number of ways to cut down MRO costs for engine operators. Granted, employing special units of engine experts around the world that can leave at a moment's notice, as MTU Maintenance does, is fantastic for handling urgent on-site issues wherever they may arise. However, it is also reactive and runs after the problems.
A much better way is to get ahead of the potential issues and map the future with intelligently contextualized data. This is exactly what MTU has developed in CORTEX, an AI-supported software that automatically generates optimal maintenance strategies for customers' fleets. In essence, it takes technical information collected during shop visits and an existing data pool for a particular engine, and combines it with data from an airline's fleet, including its operational parameters, cost structures, as well as information from engine trend monitoring. CORTEX then uses AI-assisted algorithms to create dozens of MRO scenarios, taking into account variables such as downtime, usage, contract length, as well as optimization parameters for life-limited parts and serviceable material or green-time engines.
MTU experts then evaluate these scenarios and discuss with the customers what the best MRO options are for the fleet. CORTEX can help estimate cost per flight hour, number of shop visits over the contract period, expected spare engine needs and more. An engine may only need minor work done, in which case, MTU will send out their ON-SITEPlus crews to handle the issue in a matter of days, significantly reducing costs stemming from prematurely or unnecessarily sending an engine into a shop. Or alternatively, CORTEX can help squeeze the optimal amount of flight hours out of an engine before it has to go into a shop. Costly reactionary decisions that are not due to an AOG situation are reduced to a minimum.
"CORTEX reduces maintenance and operating cost and increases dispatch reliability for airlines. It is completely customizable, immediate and proactive. Such a tool is not currently available on the market today," says Martin Friis-Petersen, Senior Vice President MRO Programs. "Airlines need a tool like CORTEX. Combined with MTU's expert recommendations, they can then assess various scenarios and maximize the use of existing assets, for instance in a restart scenario, but also avoid unnecessary spending."
MTU Maintenance has started field testing the new software with LATAM Airlines in 2020 with great success. LATAM, South America's largest airline, has a fleet of approximately 200 V2500 engines and MTU has been its MRO partner of choice for over 20 years. With over 250 shop visits since 1999, MTU has enough data and records to feed into CORTEX in order to project possible workscopes in the near future. Not only can it predict workscopes when the airline changes variables such as LLP pricing or used serviceable material availability to reflect current business conditions, it can also forecast the cost benefits in the long-term.
"It's a way for us to help keep our customers competitive with cost-efficient solutions," Straatmann says.
It hardly lacks headaches in the commercial aviation industry after a number of challenging years, but predictability in combination a quick handling of problems and emergencies can ensure that airlines and engine operators do not have to suffer unnecessary costs. MTU Maintenance's expansion of its global capabilities and capacities, as well as the intelligent use of large amounts of past and present data from MRO shop visits allows its customers to ma