Airlines are suffering during pandemic lockdowns, but investment in pilot training continues apace
Information compiled and sourced by FlightGlobal shows that close to 1,500 commercial aircraft simulation devices are currently in use globally; 74% are full-flight simulators and the balance are fixed-based flight training devices. Just over half of all simulation devices were designed for narrowbody aircraft, while widebody and regional jets count for 30% and 11%, respectively. The remaining simulators were built for turboprop types.
CAE has provided more than half of all devices, while as a training provider globally, it operates 13% of all simulators in service.
North America hosts 40% of all airliner devices. Globally, Boeing types are the most simulated, with a share of 44% of all equipment.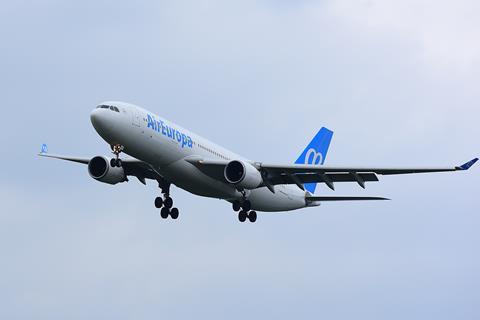 The volume of airline training deals and activity around the commercial simulation sector in the past 12 months has been considerable. It included the June 2019 merger of Harris Corporation and L3 Technologies into the new L3Harris Technologies, serving aerospace and defence. The company currently has a market share of 18% of all commercial simulator devices.
EUROPE
In Europe, CAE and Air Europa agreed a five-year extension of their training arrangements in June 2019. The Spanish carrier's Airbus A330 and Boeing 787 pilots will train at various CAE training centres, including ­London Gatwick, Madrid and Rome.
In July, L3Harris opened its new training centre in Crawley, near the UK's Gatwick airport. The $100 million centre employs 350 people and comprises two buildings – one with eight full-flight simulator bays, as well as flat-panel trainers and briefing rooms, and the other a production facility capable of manufacturing up to 30 L3Harris RealitySeven full-flight simulators per year.
Still in July, TRU Simulation + Training and Icelandair entered into a joint venture to bring simulators and on-site support to the airline's headquarters in Keflavik International airport. Through this joint venture – TRU Flight Training Iceland – TRU provided the design, set-up and operation of the centre, as well as three Boeing simulators, for the ­757-200, 737 Max 8 and 767-300.
Meanwhile, Lithuania's BAA Training and L3Harris have signed a deal for nine full-flight simulators that will be provided in the next two years. These devices will be delivered to the expanding BAA Training at various existing and new locations, including in Barcelona, Rome and Vilnius.
October was a busy month for CAE, which opened new training facilities in Italy and the UK and expanded a centre in Spain. The additional capacity will help the company meet the pilot training requirements of EasyJet, with which it reached an exclusive 10-year agreement in November 2018.
The new CAE London Gatwick training centre has been equipped with seven new CAE 7000XR full-flight simulators, including for the Airbus A320 family, A350 and A330. By the end of 2020, following the relocation of five simulators from the current CAE Gatwick centre, plus the addition of a new 787 unit, it will offer training on 13 full-flight simulators. In Manchester, 2019 saw CAE ­relocate its training centre and add a new A330 device.
In Italy, CAE opened a new training centre near Milan Malpensa airport. CAE and EasyJet inaugurated the facility, alongside local Canadian and Italian government officials. CAE Milan currently operates three new A320 full-flight simulators, equipped with the CAE Tropos 6000XR visual system.
In Spain, CAE's Barcelona centre was expanded to support Norwegian, Volotea and Vueling. The facility, which offers A320 and 737NG training, has recently deployed a third simulator – an A320 full-flight simulator.
At the end of 2019, FlightSafety International announced that it had been selected by Lufthansa Aviation Training to provide a full-flight simulator and cabin trainer for the Embraer 190-E2. The devices are scheduled to be installed at Lufthansa's Zurich centre in 2020. The FlightSafety FS1000 simulator will be qualified to Level D by the European Union Aviation Safety Agency and the US Federal Aviation Administration (FAA).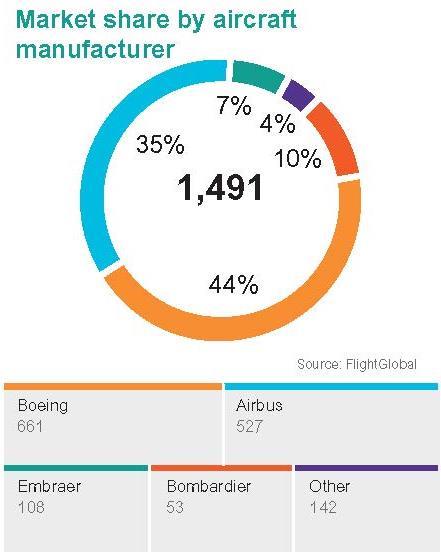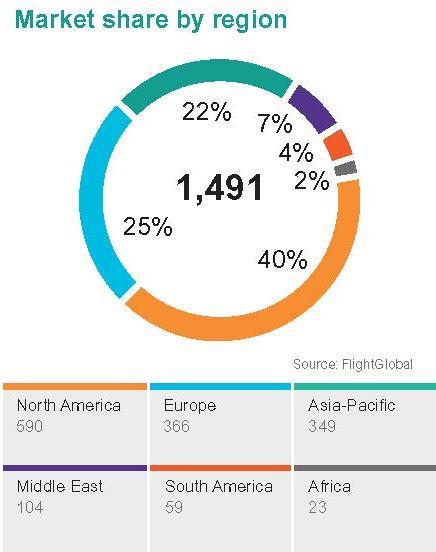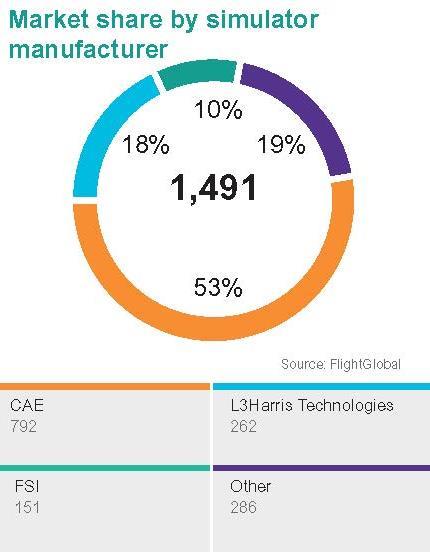 MIDDLE EAST
In the Middle East, L3Harris signed deals with EgyptAir in June to provide a single A320 full-flight simulator to its facility in ­Heliopolis, Cairo.
Following the November 2019 Dubai air show, CAE and Emirates announced a sale agreement for two 777X full-flight simulators and associated training suites of the CAE XR series. The carrier also took options for four additional training suites. With orders of more than 100 Boeing 777X jets as of June 2020, Emirates is the biggest customer for the upgraded 777.
Emirates' first new 777X full-flight simulator is scheduled for delivery in 2021. CAE announced in 2017 the sale of the world's first airline-operated 777X unit to Lufthansa Aviation Training. In 2018, CAE sold three 777X full-flight simulators to Qatar Airways and most recently, the company sold a further ­example to an undisclosed Asian airline.
Oman Air signed a purchase agreement for a 737 Max simulator from TRU for its training centre. The recently built suite, designed in partnership with TRU, currently hosts two full-flight simulators for the 737NG and A330.
ASIA
In Asia, CAE announced in September its intention to open new centres in Bangkok and Gurugram, India. As part of an existing long-term agreement with Thai AirAsia, the new CAE Bangkok facility will be located minutes away from Don Mueang International airport. CAE New Delhi Gurugram is a joint venture between InterGlobe Enterprises and CAE. The new training centre will be located near Indira Gandhi International airport in Gurugram. Both new locations should be operational by the end of 2020, subject to regulatory approvals.
During the same month, TRU announced that it had signed an agreement with Cathay Pacific Airways to provide three new devices. As part of the agreement, the manufacturer will provide full-flight simulators for the A320neo and 777-9, as well as a flight training device for the latter type. The 777-9 full-flight simulator will be one of the first in the world provided to an airline.
In September, BAA Training opened a new aviation training suite in Ho Chi Minh City. The facility opened with a full-flight simulator for the A320ceo and added one for the A320neo in early 2020; both devices are approved by the Civil Aviation Administration of Vietnam. The centre is to operate four full-flight simulators by 2021. BAA also signed a deal with L3Harris for another such device, due to be delivered to its facility in Henan province, China.
SOUTH AMERICA
In South America, CAE opened a new training facility last July with anchor customer Avianca Airlines, in Bogota, Colombia. The move marks the start of a 15-year exclusive pilot training agreement. The Bogota centre will also offer training services to airlines in the region.
737 MAX TRAINING
In January 2020, Boeing recommended that pilots should complete flight simulator training prior to returning to a 737 Max 8 cockpit – reversing a long-held position that computer-based training was sufficient. For months, Boeing, and even customers such as Southwest Airlines, had insisted computer-based training was sufficient for transitioning from the 737NG to the Max.
The FAA says it is reviewing Boeing's recommendation, but has not yet disclosed what training it will ultimately require when clearing the grounded Max to return to flight.
Elsewhere, L3Harris announced in February that it would provide two new full-flight simulators for Chinese flight training operator Guangdong Meihua Aviation Technology's new centre in Guangzhou – an aviation hub in the region and home to several Chinese airlines. A320 and 737NG simulators will be equipped with a fully electric motion system. Meihua has the option to buy one more full-flight simulator each for the 737NG and 737 Max by the end of 2020 to further expand its training capacity. According to FlightGlobal data, there are currently nearly 40 such devices for the Max around the world.
CAE CORONAVIRUS RESPONSE
Meanwhile, as the global coronavirus ­pandemic progressed in the first half of 2020, CAE recalled all temporarily laid-off ­employees in Canada and signed a contract with the government in Ottawa for the production of 10,000 ventilators. In addition, CAE announced that it was leveraging its global supply chain to source scarce N95 masks for humanitarian purposes in support of frontline health workers. To date, CAE has secured 100,000 of the masks, which will be delivered to the Quebec government.
In May, CAE chief executive Marc Parent said that, although airlines have suspended a vast proportion of the commercial fleet, training demand had not been affected. This was in part a result of requirements for recurrent pilot training, typically every six to nine months.
Although many countries have granted dispensations, training requirements will ultimately need to be fulfilled for pilots to retain their licences and resume flight duties. CAE also believes that more airline training partnership and outsourcing opportunities should materialise as the industry looks for ways to boost agility and resilience in the post-coronavirus era.