Nepalese authorities have located the flight recorders of the Yeti Airlines ATR 72-500 that crashed on 15 January, as the country marks its worst aviation disaster in 30 years.
The Civil Aviation Authority of Nepal (CAAN) confirms the recovery of the aircraft's cockpit voice and flight data recorders, in a daily update on 16 January. The recorders are reported to be in good condition and will be sent for analysis.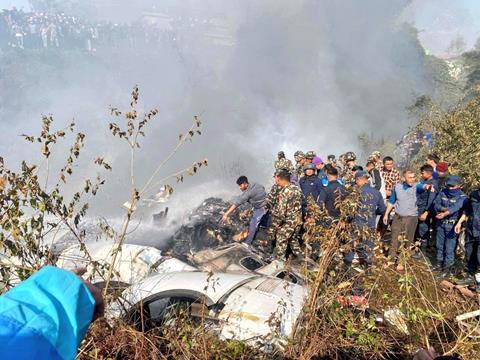 The aircraft (9N-ANC, MSN754) was operating flight YT691 from capital Kathmandu to Pokhara and was carrying 68 passengers and four crew members.
The CAAN in its latest update says there were no survivors on the flight, which took off from Kathmandu around 10:30 local time, and was on approach to Pokhara airport when it crashed.
The incident is Nepal's deadliest crash since 1992, when a Pakistan International Airlines aircraft crashed into a hillside on approach to Kathmandu, killing all 167 people on board.
The crash also comes over half a year since a Tara Air Viking Air DHC-6-300 crashed while operating the Jomson-Pokhara route.
Nepal's government has ordered an investigation into the incident. Yeti Airlines also suspended operations on 16 January in "mourning for the passengers who lost their lives".
Following the crash, airframer ATR, which confirmed knowledge of the incident, said its specialists were "fully engaged to support both the investigation and the customer".
French air accident investigators have also said they will participate in crash investigations and coordinate with other parties.
All Nepalese operators have been blacklisted by European regulators for nearly a decade, following a series of fatal commuter turboprop accidents. In late November 2022, EU officials were carrying out on-site assessments of Nepalese air safety.
Cirium fleets data indicates that 9N-ANC was delivered new to India's now defunct Kingfisher Airlines in 2007. It served with Thailand's Nok Air from 2013 to 2019, when it entered service with Yeti Airlines. The aircraft is managed by lessor Investec Bank, and owned by KF Turbo Leasing.