China Eastern Airlines hopes to place up to 50 aircraft at its newly-established base on Hainan island, as part of broader plans to grow its presence at the up-and-coming free trade hub.
The announcement comes as the SkyTeam officially launched its Hainan operational unit — known as China Eastern Airlines Hainan — aimed at "effectively integrating" the island into the airline's broader network.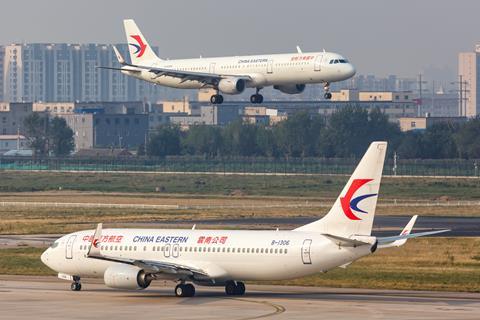 While it did not state what aircraft it was intending to base at Haikou and Sanya — Hainan's two largest cities — it says it will "continue to increase investment in…capacity into Hainan and continuously optimise its route network".
China Eastern also did not elaborate if the latest announcement was referring to its mainline operations, or that of Sanya International Airlines, the newly-set-up unit based at Sanya.
The carrier in June 2020 inked a cooperation framework agreement with four partners — including Shanghai-based carrier Juneyao Airlines — to establish a Sanya International.
China Eastern will hold a majority 51% stake in the new carrier, with Juneyao taking 15%. The three other partners are Chinese travel solutions firm Ctrip Travel Network Technology, which will hold 14% shareholding; state-owned entities Hainan Communications Investment Holdings and Sanya Development Holdings will each hold a 10% stake.
The move to start Sanya International follows the Chinese government's plans to turn Hainan island into a free trade zone and an international tourism hub. The carrier has said that Hainan island played an "important part" of the "new era of…market strategy".
China Eastern's entry into the Hainan market also comes amid financial strife at rival Hainan Airlines, whose parent company HNA Group is undergoing bankruptcy reorganisation.