Iberia parent IAG has confirmed it has struck an amended agreement with Globalia to acquire Air Europa for €500 million ($606 million), half the price envisaged when the deal was originally agreed in November 2019.
Under the revised deal, the €500 million payment will be deferred until the sixth anniversary of the acquisition's completion. The purchase is expected to close in the second half of 2021.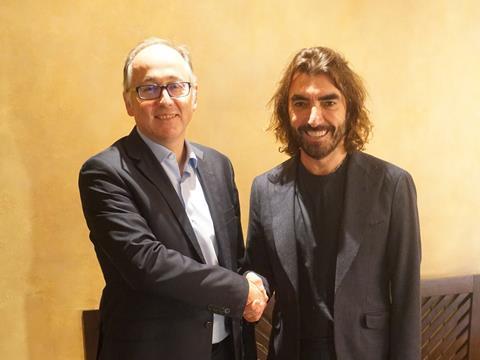 IAG chief executive Luis Gallego says: "Both Iberia and IAG are demonstrating their resilience to face the deepest crisis in aviation's history. Being part of a large group is the best guarantee to overcome current market challenges which will also benefit Air Europa once the transaction is completed.
"I am pleased that we have reached agreement with Globalia to defer payment until well into the expected recovery in air travel following the end of the pandemic and when we expect to be realising significant synergies resulting from the transaction."
IAG had originally hoped to close the deal by mid-2020, but this was delayed as the pandemic hit and the terms of the deal were renegotiated. It has consistently maintained the acquisition of Air Europa remains strategically important in increasing the importance of the Madrid hub, where Iberia is already the biggest operator.
"IAG continues to expect the acquisition to generate significant cost and revenue synergies, with full run-rate synergies similar to those originally envisaged and now expected by 2026," IAG says. It expects the acquisition to be earnings-accretive in the first full year following completion and to generate returns on invested capital "in line with those historically achieved by IAG" within six years of the acquisition.
"Assuming completion in the second half of 2021, IAG will be taking on Air Europa at a time when air travel recovery could be meaningful as the roll-out of Covid-19 vaccines proceeds worldwide," it adds.
"Net cash outflow to IAG of this transaction is expected to be minimal in 2021 and net cash flows are expected to be positive until at least the repayment of the loan from [state holding company] SEPI in 2026 when merger synergies are expected to be at their full run-rate."
Spain's government in November approved a six-year €475 million state-backed loan to support AIr Europa through the crisis.
The revised deal remains conditional on "satisfactory negotiations" between Iberia and SEPI over non-financial terms related to the loan - which Spanish media have previously reported relate to SEPI's right to board representation at Air Europa. IAG says Iberia intends to begin discussions with SEPI shortly concerning these conditions.
Iberia generated revenues of €2.1 billion and an operating profit of €71 million in 2019, before the pandemic hit. It carried 13.1 million passengers but that figure has fallen by around 70% this year. IAG says Air Europa currently has an operating fleet of 52 aircraft compared with 68 at the end of 2019, all except one on operating lease.
Javier Hidalgo, chief executive Air Europa parent Globalia, says: "This transaction is a great effort by all of us and is the best way to recover tourism, transport in Spain and the Madrid hub."
The deal remains subject to approval from the the European Commission.
In March last year IAG reached a provisional agreement with Volotea aimed at allaying competition concerns under which the Barcelona-headquartered airline would open up to four bases in Spain in order to pick up routes through slots transferred from either Iberia or Air Europa.