Embraer has identified what it believes is a "mismatch" in capacity and demand among Malaysia carriers, and is touting its E2 twinjet family as the "perfect complement" to the airlines' current fleets.
In a report for the Malaysian market – released in conjunction with the Selangor Air Show – the Brazilian airframer projects the need for 150 new aircraft under 150 seats – which its E-Jets fall under – over the next 20 years in Malaysia.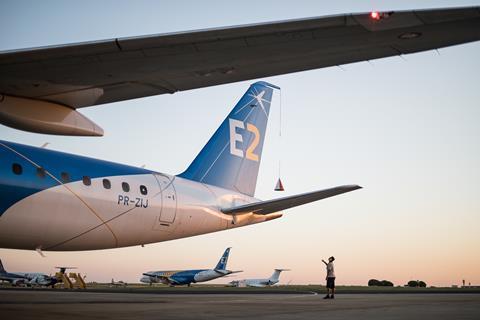 Embraer, citing 2019 traffic data, notes that airlines were carrying fewer passengers than the seats available. On average, there were about 128 passengers per flight across three airlines listed: Malindo Air (now known as Batik Air Malaysia), Malaysia Airlines, as well as low-cost giant AirAsia.
Batik Air Malaysia and Malaysia Airlines are Boeing 737 operators, while AirAsia is a prolific Airbus A320 family customer.
The airframer also notes that about 90% of the fleet and order backlog among Malaysia carriers are aircraft with over 150 seats.
"An imbalanced fleet mix might pose a threat for the country's connectivity and to have optimised schedules for passengers," says Embraer, stressing that "flexibility is now more than ever essential" for carriers, especially in post-pandemic recovery.
Reiterating the point that the E2 family of aircraft are "right-sized", Embraer adds: "The E2 has up to 25% reduced trip cost than a new generation narrow-body aircraft commonly seen in Malaysia while maintaining seat cost parity, and this will improve the competitiveness of an airline."
Embraer also believes Malaysian carriers will be able to increase the number of city pairs within the country, with "lesser risk", which it believes can "contribute to widespread economic development". It projects regional aircraft can open up more than 100 new routes within Malaysia and the region.
Among the major airports in the country, Embraer is most bullish about prospects from Subang airport, located near Kuala Lumpur. While there were only 10 routes in 2019, the airframer believes the number of city pairs can go up to 72 with "right-sized aircraft", including the E2 family.
There are currently no Embraer operators in the country, with only Batik Air and Malaysia Aviation Group operating ATR 72 turboprops on regional routes.