Garuda Indonesia says its restructuring is proceeding apace, despite a fresh lawsuit from a pair of lessor special purpose vehicles (SPVs).
Carrier chief executive Irfan Setiaputra says that the airline has already completed several aspects of its restructuring under the terms of the PKPU – a local programme for the suspension of debt payments.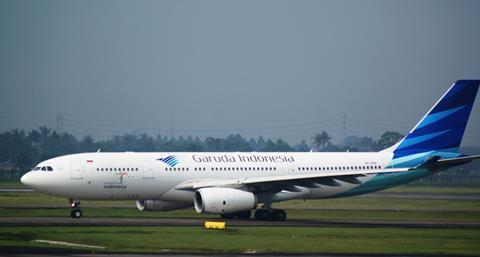 He also stresses that Garuda has been transparent with creditors, 95% of whom approved the restructuring, which reportedly involved over $9 billion in debt.
"We have done this through intensive communication and long discussions with all creditors since the completion of the restructuring process some time ago, including with the two lessors," says Setiaputra.
According to a Reuters report, citing Indonesian court documents, Greylag Goose Leasing 1410 and 1446 filed applications with a Jakarta court for the cancellation of the restructuring.
Cirium fleets data suggests that each SPV owns a single Airbus A330-300. One aircraft (PK-GPQ, MSN1410) is 9.8 years old, while the other (PK-GPR) is 9.5 years old. They are powered by Rolls-Royce Trent 700 engines and managed by lessor TrueAero.
Cirium indicates that both are parked at Jakarta's Soekarno-Hatta International Airport.
Setiaputra states that Garuda has yet to hear from the Central Jakarta District Court about the Greylag Goose applications.
Reuters adds that the two lessors have filed applications against Garuda in overseas courts.
Setiaputra adds that Garuda has also taken legal action against the two lessors in various countries. This, he states, has strengthened Garuda's overall legal position.
In December 2022r, Garuda received Rp7.5 trillion ($478 million) from Jakarta. The funds are earmarked for fleet renewal, spare parts, and operations. They were contingent on the carrier meeting specific criteria outlined in the carriers restructuring plan.