Jetstar Japan's operating revenue declined 21% to Y47.9 billion ($454 million) for the fiscal year ended 30 June, as it grappled with the impact of Covid-19.
"Despite strong performance in the first half of the fiscal year, the second half was significantly affected by the sharp decline in aviation demand due to the spread of Covid-19," the budget carrier said in a 29 September statement.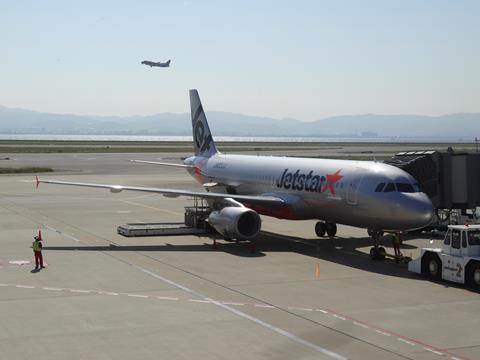 Its operating loss of Y6.7 billion compares with a Y1.06 billion operating income in the previous fiscal year.
At a net level, the budget carrier ended the period Y7.8 billion in the red, versus a net income of Y914 million in the year-ago period.
Overall passenger numbers declined by 21.8% year-on-year. The airline cut ASKs by 21.4% and RPKs fell 26.3%. Load factor declined by five percentage points to 82%.
During the fiscal year, Japan's Ministry of Land, Infrastructure, Transport and Tourism granted Jetstar Japan the status of designated domestic air carrier in October. In December, the airline received certification for aircraft maintenance inspection.
Jetstar Japan's chief executive Masaru Kataoka states: "In order to survive the impact of Covid-19, Jetstar Japan was quick to reduce costs and optimise operations while giving top priority to safe operations in view of the sharp drop in demand. We will work to refocus our business when demand recovers."
Comparing the first and second halves of the recently concluded fiscal year, the airline maintained service on 20 routes – 16 domestic routes and four international routes to Manila, Hong Kong, Taipei, and Shanghai – but air traffic nearly halved, according to Cirium data.
Between July and December 2019, Jetstar Japan operated 19,100 tracked flights versus 10,000 flights from January to June.
This story has been updated throughout to correct native currency amounts, from millions to billions