HALCON, an end-to-end manufacturer of precision-guided munitions, aims to offer a full complement of guided weapons, by focusing on key international partnerships and nurturing home-grown IP
By the second half of this decade, the UAE will be designing and producing a complete range of air-to-ground, airto- air, naval, and ground-launched airborne weapon systems, with its own proprietary technology. This progress is set to place the Gulf nation on a par with a select group of states that have this capability within their borders.
The pledge is from Saeed Al Mansoori, chief executive of HALCON, which is part of the group's Missiles & Weapons cluster. His roadmap is all the more impressive in that the company was established only in 2017, with the "task of being the custodian for UAE IP [intellectual property]" in the field of guided weapons. HALCON's first family of missiles was Desert Sting (P2), a drop-launched, delivery system for warheads ranging from 5kg to 25kg, which uses inertial guidance technology and the global navigation satellite system to lock onto a target.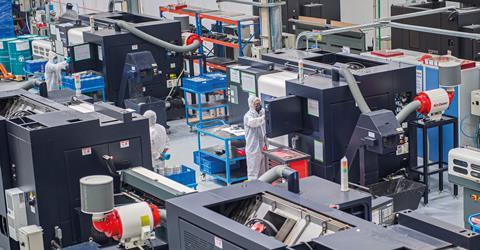 In 2019, HALCON signed a $1 billion contract to deliver the DS-16 (16kg warhead) variant to the UAE armed forces. P2 was developed with Denel Dynamics in South Africa to the level of a demonstrator, after which HALCON made 11 changes to the version produced in the UAE, which translated to Desert Sting-16, says Al Mansoori.
These modifications include a new semi-active laser (SAL) seeker, warhead, safety and arming device/fuze, advanced missile structure, MCB, lug system, actuator system, fin locking mechanism, safety electronics, thermal batteries, height of burst sensor (HOBS), and guidance system. The inertial guidance system is augmented by global navigation satellite system (GNSS) technology. "It was our intention to take a product, but then to use our IP to convert it for our requirements," he explains.
The manufacturer's other main current offering is Thunder, another drop-launched family of three carriage systems that transports standard Mk81 (250lb), Mk82 (500lb), and Mk84 (2,000lb) warheads. With gross weights spanning 140kg to 1,150kg, the Thunder P31, P32 and P4 have ranges of 27km, 24km and 16km respectively. They are released from 40,000ft.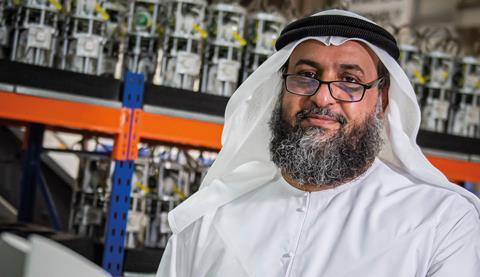 Strategic direction
So far, HALCON's products are unpropelled and gravity-launched, albeit with sophisticated guidance technology, but Al Mansoori suggests that innovations are afoot that will take HALCON into entirely new segments of the aerial munitions market. "Next year, we are looking into propelled air-to-ground weapons," he says. "By 2024 we hope to demonstrate a ground-to-air capability and by 2025 air-to-air. We are putting into place building blocks that will take us there."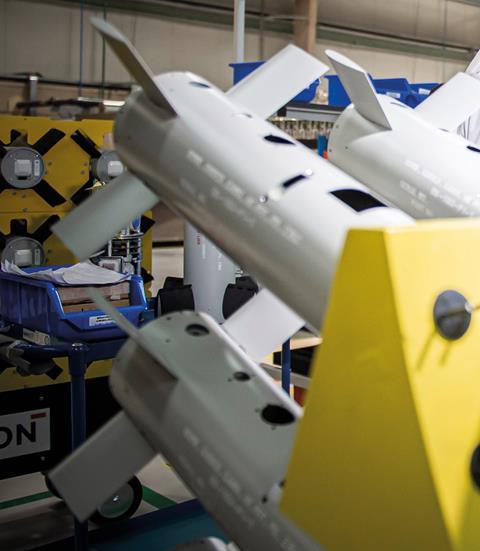 A glimpse into HALCON's strategic direction came at the IDEX defence show in Abu Dhabi earlier this year, when the company unveiled SkyKnight, the first short-range counter-rocket, artillery and mortar (C-RAM) missile system to be developed in the UAE. SkyKnight will be part of a wider air defence system, called Oerlikon Skynex, developed by Germany's Rheinmetall. The product provides protection against a range of asymmetric and conventional threats, including standoff missiles, and can be deployed against up to 80 incoming targets at once. Transportable in 20ft containers, SkyKnight can be used to guard static assets such as military bases or critical infrastructure, as well as, conditionally, mobile units.
Also at IDEX, HALCON displayed the HAS-250, an under-development Anti-Ship surface-to-surface cruise missile capable of up to Mach 0.8 over a range of up to 250km. The sea-skimming weapon can seek out its target at an altitude of between 5-10m, using global navigation satellite and inertial navigation systems.
One feature of HALCON that sets it apart from numerous competitors is its high level of vertical integration, as witnessed in a tour of its assembly plants in Abu Dhabi's Tawazun Industrial Park. With around 35 modern CNC machines producing a range of metal parts, and another 30 about to be installed, including the region's only example with nine axes, HALCON is able to manage virtually its whole supply chain internally.
Al Mansoori explains the logic. With the UAE's small manufacturing sector still in its infancy, it is simply not possible to outsource such crucial supply contracts. "We need to control the quality," he says. "We have a big contract to deliver to the government and those quantities justify the investment."
Another priority for Al Mansoori is local recruitment. While the company has drawn on overseas talent from Brazil, South Africa and elsewhere, it has a scheme – Project 400 – to recruit and train 400 Emiratis as missile specialists. "Over the next 15 to 20 years, maybe as few as 10, we will be in a position where we can rely on UAE engineers in most areas of guided weapons," he says.