EDGE combines the benefits of a state-backed group that is now one of the top 25 defence contractors with the agility and ingenuity of a brand new company, maintains H.E Faisal Al Bannai
A week before the 2019 Dubai Airshow, H.E Faisal Al Bannai stood before an audience of dignitaries at a ceremony in Abu Dhabi and announced the launch of EDGE. The newly appointed CEO and Group Managing Director hailed the entity as an "advanced technology conglomerate" that would bring together 25 of the nation's diverse defence industrial assets, specialising in areas from missiles to maintenance, and unmanned air vehicles (UAVs) to ammunition.
Although Abu Dhabi had previously organised its defence concerns under holding groups such as Emirates Defence Industries and Tawazun, EDGE was an attempt to unite the entire industry under a single, strong brand. It would drive internal synergies and empower those units to take the vital next step to becoming mature, export-focused businesses. At the same time, as the face of Abu Dhabi and the UAE, EDGE would promote the nation's emerging capabilities to the world.
Speaking in his office in EDGE's modern headquarters in a new business district of the UAE capital, Al Bannai, a former telecoms entrepreneur, is proud of what EDGE has done in those two years. "Our achievements include the consolidation of all those companies under one vision and one strategy, avoiding duplications and accelerating roadmaps," he says. "We are aligning all our companies to our market strategy."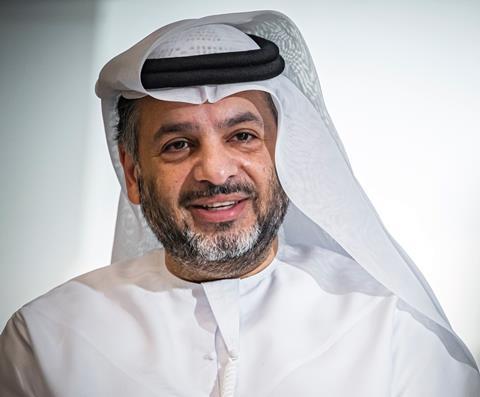 Agile working
That is already paying off in a "dramatic acceleration in our technology offering", he says, with 10 times as many products under development than in 2019. Companies have become "more agile and faster to market", he adds, citing the launch of a family of tactical unmanned systems EDGE combines the benefits of a state-backed group that is now one of the top 25 defence contractors with the agility and ingenuity of a brand new company, maintains H.E Faisal Al Bannai at February's IDEX defence show. "It showcased how fast we could deliver. We developed drone capabilities that did not exist before in record time," he says. "It highlights the type of DNA that we are developing." Economies of scale and encouraging EDGE companies to cooperate are crucial to that success. "We are working on products that could not be created by individual companies," he says. He offers as an example the growing field of loitering munitions – a hybrid of missile technology and expertise in unmanned, self- navigating platforms. "By putting together these different building blocks, working hand in hand, we canadd value and create new categories of product," he adds.
"We are offering well-paid, hightech jobs with good career paths"
EDGE, of course, is not the first national industrial champion to be fashioned from the merger of smaller companies. From British Aerospace and Aerospatiale in the 1970s to the post-Cold War consolidation of the US military contractors in the 1990s and the amalgamation of the French, German and Spanish industries into EADS in 2000, sizing up has been around in aerospace and defence for generations.
However, EDGE is about much more than becoming bigger for the sake of it, according to Al Bannai. "We are a company with some scale," he admits. "But we still function like a start-up. We are supported by a government, so we are not the sort of start-up that could go belly-up tomorrow. However, we have thementality of a start up in that we encourage agility and speed of decision making to come up with fresh product lines."
Luring talent
Like any ambitious new company, EDGE has lured talent from leading global companies. At the same time Al Bannai is aware that part of its role as a flag-bearer for Abu Dhabi and the UAE is to identify and nurture the best Emirati brains. "We are creating a destination for bright nationals to join EDGE," he says. "However, it is not a numbers game. The UAE is not a low-cost labour market. We are offering well-paid, high-tech jobs with good career paths. It will be competitive to join EDGE."
Aside from the home market and neighbouring Gulf Cooperation Council states, Al Bannai sees a number of nations in Africa, Asia and South America among EDGE's target customers. But he sees the group's mission as being more than simply being a vendor. Instead, EDGE will offer to work with these countries to build capabilities for their defence sectors, he says.
He also expects EDGE to continue to cooperate with some of the industry's biggest names. Although no longer a joint venture shareholder in its AMMROC military maintenance repair and overhaul business, Lockheed Martin will remain a trusted partner, he says. EDGE companies have also cooperated with South Africa's Denel and Germany's Rheinmetall on missile developments. "EDGE is here to team in joint developments with anyone that will add value," he says.
Last year's Abraham Accords – which established diplomatic relations between the UAE and Israel – has also led to cooperation. In March, EDGE and Israel Aerospace Industries said that they would work together on a counter-UAV system for the Middle East market. While Al Bannai welcomes the agreement, he insists both companies will be contributing proprietary technology. "We want to add value in all our relationships," he says. "We will not just be a re-seller of someone else's products." In fact, electronic warfare and autonomous capabilities are two areas where Al Bannai is confident EDGE can be "a key player on a global scale". An emphasis on developing that indigenous know-how and implementing it in successful products is vital to the company's future, says Al Bannai, who characterises EDGE as an "advanced technology company that happens to be in defence, rather than a defence company that does advanced technology".
"We will not just be a re-seller of someone else's products"
EDGE's two-year anniversary coincides with another very significant birthday, as 2021 marks the 50th anniversary of the United Arab Emirates. The federation of seven emirates – Abu Dhabi, Ajman, Dubai, Fujairah, Ras al-Khaimah, Sharjah and Umm al-Qaiwain – founded by the ruler of Abu Dhabi, His Highness Sheikh Zayed Al Nahyan, came into being on 2 December 1971, succeeding the British-administered Trucial States. While much of the nation's early success was based on oil – Abu Dhabi's first exports were in the 1960s – the country has gone through a massive programme of investment over five decades to develop infrastructure and diversify its economy into areas from high-end tourism and aviation to financial services and high tech manufacturing. The UAE, under its President His Highness Sheikh Khalifa Al Nahyan, has become a diplomatic leader on the world stage.
Establishing a sovereign capability in defence – working with international partners but also developing home-grown intellectual property and industrial competencies to eventually become a major player in the global market – is very much part of the UAE strategy for the next 50 years. The creation of EDGE in 2019 is a crucial step towards achieving that goal.