Iberia has put its first converted Airbus A330 freighter into service, operating on flights between Madrid and Los Angeles.
The Oneworld carrier says all economy and premium economy seats and the crew rest were removed along with separation panels at Iberia's Madrid maintenance hangar. Carpeting was reinstalled with lights indicating the 33 cargo positions.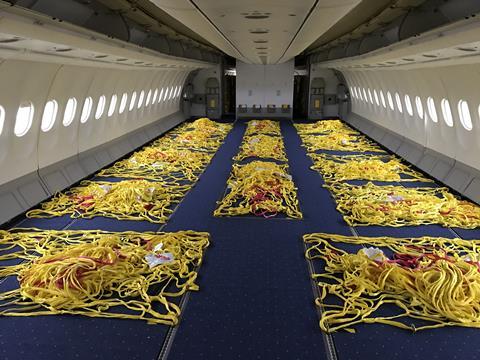 Cargo will be held in place with netting fastened to floor rails where the seats were anchored. The cabin conversion was carried out by Iberia Maintenance.
Iberia's sales chief Maria Jesus Lopez Solas says: "We're expecting an increase in air freight demand in coming months and this is an opportunity we should try to seize. Under today's circumstances we must adapt better than ever to market demands, and this operation will help diversify our income streams while keeping our staff active."
IAG Cargo, the freight division of Iberia parent IAG, will service these flights.
Revenue at IAG Cargo increased 14% in the third quarter to €302 million, the carrier disclosed at the end of October, as demand for cargo capacity increased amid reduced levels of availability on passenger aircraft.
IAG Cargo chief executive Lynne Embleton says:"The stark impact of Covid-19 on aviation continued throughout Q3. The overall market was weaker than pre-pandemic levels, but the continued squeeze on available air cargo capacity across the global market was the key dynamic in the quarter as carriers continued to ground aircraft.
"Q3 saw a significant ramp up in our network, with routes and frequencies added across the Atlantic, to Africa, Asia and the Middle East. By the end of Q3, we were operating more than 3,000 cargo flights per week and we will further develop our network into Q4."