One of the UK's big three offshore helicopter providers – which can trace its presence in the North Sea region back almost 50 years – appears ready to exit the segment once current contracts have run their course.
Aberdeen-based Babcock Mission Critical Services Offshore is, through a series of mergers and acquisitions, the descendant of Bond Helicopters, one of the offshore transportation industry's pioneers in the 1970s.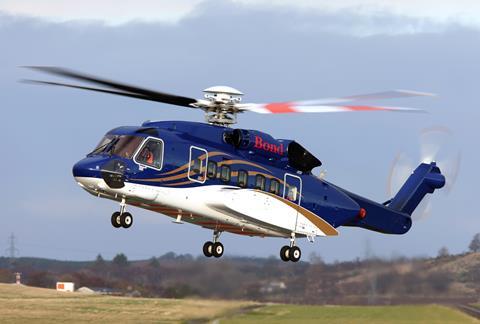 Although for many years a North Sea equal of global giants Bristow Group and CHC Helicopter, Babcock is now struggling to keep pace with its rivals.
Archie Bethel, chief executive of parent company Babcock International, speaking on a 12 February half-year trading update, said that the business "does not intend to invest further to stay in that market".
He cites intense competition in the segment resulting from the Chapter 11 bankruptcy restructuring of three global helicopter services providers – Bristow, CHC and PHI – which "has effectively reset global market pricing levels".
Babcock will book an £85 million ($110 million) one-off charge in its current financial year – which runs until 31 March – three-quarters of which is related to asset write-downs in the oil and gas business. That comes on top of a similar £81 million exceptional item for the previous full year.
Bethel says although Babcock will continue to service its existing contracts from Aberdeen, the other operators are "in a price war with each other" which "we don't really want to join".
The re-emergence of rivals from Chapter 11 with "reduced debts and written-down assets" has also forced down helicopter values, notably for the Sikorsky S-92, says Bethel, to "way below what we were paying in lease costs".
Babcock has cut is S-92 fleet from 15 to seven helicopters, he says, following on from a previous reduction of its Airbus Helicopters H225 inventory from 13 aircraft to just one, which will eventually be disposed of.
But despite the restructuring efforts of Babcock's competitors, they still appear to be struggling to reach profitability. Bristow, which plans to merge with Era Group, recorded a net loss of $169 million in the three months to 30 June 2019, the most recent period for which figures are available.
CHC's performance is harder to gauge, as it emerged from Chapter 11 as a private company ultimately registered in the Cayman Islands. However, its Aberdeen-based operation – CHC Scotia – continues to record losses. Accounts filed in mid-January, for the period to 30 April 2019, show a pre-tax loss of £20.5 million on turnover of £125 million, up from a £4.6 million loss on £121 million turnover the year before.
CHC Scotia operates just 19 helicopters – effectively generating a loss of £1 million per aircraft over the 12 months.
However, the company says that "despite the challenging conditions" it has demonstrated "significant resilience" and its competitive position has been "further enhanced by subsequent improvements throughout CHC Group".
CHC also notes recent "major contract wins and retentions" which will provide "a solid platform for future growth".
Nonetheless, the accounts make clear that the operation relies on the continued financial support of its parent company to meet its liabilities and continue as a going concern.