The US Marine Corps (USMC) may need several months to investigate the "aviation mishap" involving a Bell Boeing MV-22 Osprey that went down during recent training exercises in Norway, the service says.
Four Marines were killed in the 18 March crash, which occurred around 18:00 local time during stormy weather on a flight to a Royal Norwegian Air Force base in the northern city of Bodo.
The USMC says authorities from the USA are leading the investigation after being given authorisation by the public prosecutor in Nordland, Norway.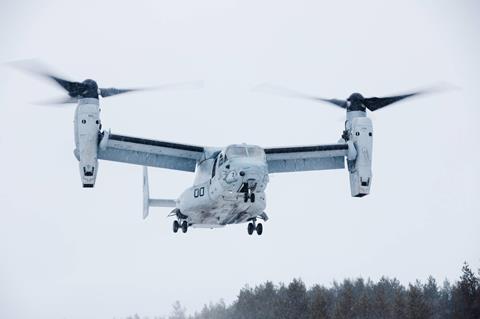 "We mourn the loss of our four Marines who dedicated their lives to our nation," USMC Major General Michael Cederholm says in a statement sent to FlightGlobal on 6 April. "We will do everything in our power to understand what occurred that fateful afternoon."
Personnel from the Norwegian home guard are being used to secure the crash site, which was initially identified by a local search and rescue team using an unidentified rescue helicopter and a Lockheed Martin P-3C Orion surveillance aircraft.
Remains of the four Osprey crew were successfully removed from the crash site for repatriation to the USA, according to the II Marine Expeditionary Force.
The USMC identified the four men as:
· Captain Matthew J Tomkiewicz of Fort Wayne, Indiana
· Captain Ross A Reynolds of Leominster, Massachusetts
· Gunnery Sergeant James W Speedy of Cambridge, Ohio
· Corporal Jacob M Moore of Catlettsburg, Kentucky
The men were assigned to USMC Medium Tiltrotor Squadron 261, based at Marine Corps Air Station New River in North Carolina.
The crash of the Osprey occurred during the biennial NATO exercise known as Cold Response, which is held Norway and planned by the Norwegian armed forces. NATO says Cold Response is designed to test the ability of partners and member nations to operate in a cold weather environment on land, air, and sea.
This year's drills involved 30,000 troops from 27 countries. The NATO website says the exercise had been planned for more than eight months and had no connection to the ongoing invasion of Ukraine by Russian military forces.