Ryanair underlined the strength of its recovery in activity by carrying 14.2 million passengers and reporting load factors of over 90% in April, marking the low-cost carrier's busiest month since August 2019.
It signals further evidence of the European carrier's rapid ramp-up in activity, which has picked up pace again after the Omicron-related blip reported at he start of the year. The 14.2 million passengers carrried in April is 3 million more than Ryanair flew in March.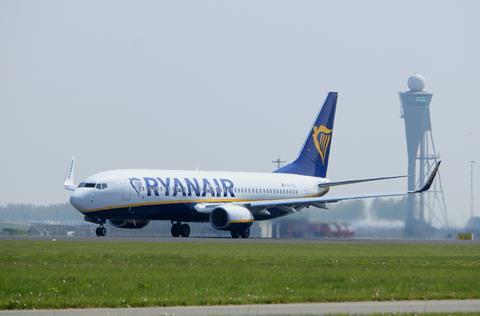 It was also the second consecutive month in which Ryanair flew more passengers than in the equivalent pre-crisis month in 2019. The carrier flew 13.5 million passengers in April 2019.
While Ryanair load factor remains below pre-crisis levels – which in April 2019 stood at 96% – the airline reported a April 2022 figure of 91%. That marked a four-point improvement on its previous post-pandemic high, the 87% load factor it recorded in March.
Another European budget carrier, Wizz Air, similarly reported its highest passenger levels since before the pandemic, carrying 3.6 million for April. That too is above the 3.3 million passengers it flew in April 2019.