London Heathrow has warned that the lack of a Covid-19 airport testing regime in the UK has left it "unable to compete" with rival European gateways, after reporting that passenger numbers in October had declined by 82% year on year.
October's figures represent the "eighth consecutive month of catastrophic decline" at Heathrow, says the airport, and November looks set to be "even worse".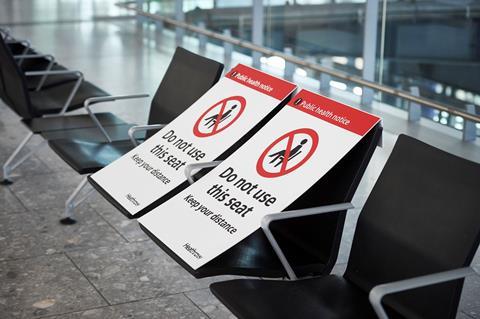 The biggest decline last month was in the North American market, where passenger numbers fell almost 95%. Domestic traffic fared the best but was still down 72% compared with the same month in 2019.
Total air transport movements at Heathrow fell by almost 57% in October, while cargo volumes reduced by 23%.
"Long-haul and critical markets for trade suffered the worst declines due to the government's debilitating quarantine requirements," says Heathrow, adding that "the lack of a testing regime has left British airports unable to compete with EU rivals".
Heathrow was last month overtaken by Paris Charles de Gaulle as Europe's largest airport. In the first nine months of 2020, 19 million passengers passed through Heathrow, compared with 19.3 million at Paris CDG, 17.6 million at Amsterdam Schiphol and 16.2 million at Frankfurt. All three of these rival airports have implemented some form of coronavirus testing strategy.
The UK government last month formed a new taskforce to examine options for reducing the 14-day quarantine period for international arrivals, including a possible Covid-19 testing programme to be provided by the private sector and paid for by passengers. It is set to put forward its initial recommendations this month.
But Heathrow chief executive John Holland-Kaye argues that the "lack of government action is weakening our sector", and "making it harder for us to support the eventual economic recovery".
UK group MAG, which operates Manchester, London Stansted and East Midlands airports, also today reported a year-on-year decline in passenger numbers of 84% in October and is projecting even steeper falls for November.