Southwest Airlines will greatly expand its flying to the Hawaiian islands from the US mainland beginning in June.
The Dallas-based carrier reveals on 13 May that it will be introducing new service to and from Hawaii destinations from Las Vegas, Los Angeles, Phoenix and San Diego, multiple times a day.
That brings number of cities on the US mainland that the airline connects to the archipelago in the Pacific Ocean with a direct flight to more than 40.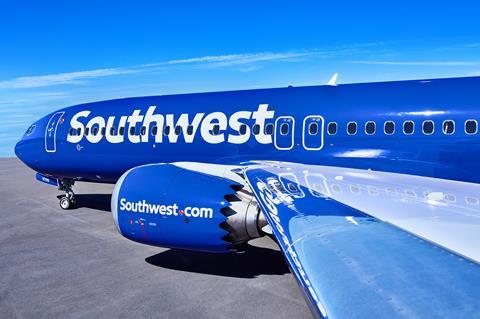 "These new flights bring Hawaii service closer to more of our customers who live near airports across the West, and make it possible to choose Southwest to fly between the Aloha State and cities as far east as Nashville, without spending an entire overnight in the air," says Andrew Watterson, chief commercial officer at Southwest.
Flights from the four western cities to the islands will go to Honolulu, Kahului, Kona, and Lihue.
Until now, the airline – which started flying to Hawaii from the US mainland in March 2019 – did not have any non-stop connections from Los Angeles, Las Vegas or Phoenix. With this schedule update, it will be operating 25 flights from the four cities every day. The first of these new routes are set to launch on 6 June, with more being added through the summer travel season.
The airline says that the Las Vegas and Phoenix routes were long-requested by customers. Southwest serves both of those cities with 200 and 180 flights a day, respectively, to about 60 destinations each.
In addition, the airline adds that it is expanding its flying to Hawaii from Oakland, San Jose and Long Beach airports as well.
Flights will be operated on the airline's fleet of Boeing 737-800 and Max aircraft, Southwest says.