A year ago as the pandemic tore around the world, it was anyone's guess when North American airlines would bounce back. At the beginning of a cataclysmic global crisis, passenger carriers cut routes, retired aircraft and shed staff. Now, optimism has returned, with major airlines reporting promising first quarter results, and sharply higher demand as Americans get back in the air. Majors are offering more point-to-point routes and looking to alliance partners to help support their growth, while smaller carriers scramble to grab more market share while US travellers have money to spend. Two new low-cost entrants - Avelo Airlines and Breeze Airways - are set to shake up the US market, while two others – Sun Country and Frontier Airlines – recently launched successful IPOs.
In this webinar we explore the reasons for this optimism, and what airlines and airports around the country are doing to turn the first green shoots into a sustainable post-coronavirus recovery.
Speakers
Pilar Wolfsteller, Americas Air Transport Editor, FlightGlobal (moderator)
Kim Gesch, VP, Commercial Planning, Cirium
Kim Gesch is the Vice President of Commercial Planning at Cirium, the data and analytics company that is helping to shape an intelligent future for air travel. Kim joined Cirium, a part of the global information-based analytics company RELX, in 2019. He is leading the Commercial Planning sector and recently successfully launched an international airline traffic and fares module for the Cirium SRS Analyser network analysis tool. He is also leading the integration of the acquired tech start-up, Migacore, to build machine learning capabilities for airline demand forecasting using contextual real-world data.
Prior to this role, Kim spent 15 years in air travel companies. He was Director of Strategic Product Planning at the global travel management company, BCD. He was a Solutions Manager – Market intelligence at Sabre. As well as, held management roles at DFW International Airport in air service development and terminal management. Kim has an MBA from Texas A&M University in Commerce, and a Bachelor of Science in Aviation Management from Eastern Michigan University. He is based in Dallas Fort Worth, Texas, US.
Brian Znotins, Vice President of Network & Schedule Planning, American Airlines
Brian Znotins is Vice President of Network & Schedule Planning. In this role, he guides the development and implementation of American's global network and hub strategy. This includes all route planning, slot management and long-range planning efforts.
Brian joined American from WestJet, where he spent three years as the airline's Vice President of Network, Alliances and Corporate Development.
During his time at WestJet, he led a redesign of three critical hubs, drove schedule quality improvement, designed a Canada/U.S. joint venture, and introduced a new strategy to reach the premium traveler market.
Prior to WestJet, Brian spent more than 17 years at United Airlines and Continental Airlines, where he held numerous leadership positions including Vice President of Network and Managing Director of International and Long-Range Planning. He began his airline career as an analyst in the network planning department of Canadian Airlines in Calgary.
Brian holds a bachelor's degree and MBA from the University of Calgary.
Jude Bricker, CEO, Sun Country Airlines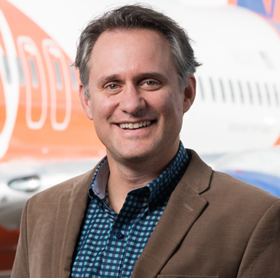 Jude Bricker has served as our Chief Executive Officer since July 2017. Mr. Bricker has 16 years of experience in the aviation industry. He previously served as the Chief Operating Officer of Allegiant Travel Company from January 2016 to June 2017, as well as various other leadership roles from 2006 to 2016. As Chief Operating Officer of Allegiant Travel Company, Mr. Bricker was the senior executive responsible for marketing, network, operations, treasury, fleet, scheduling, pricing, ancillary products, digital, distribution, charters, loyalty and investor relations. From July 2004 to May 2006, Mr. Bricker was a finance manager at American Airlines. Mr. Bricker holds a BS in Civil Engineering from Texas A&M University and an MBA from the University of Texas.
Stephanie Wear, Director of Air Service Development and Cargo Services, Philadelphia International Airport (PHL)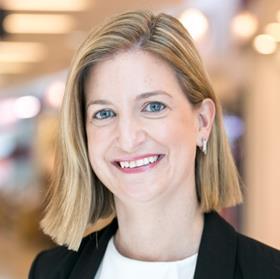 The City of Philadelphia Division of Aviation owns and operates Philadelphia International Airport and Northeast Philadelphia Airport. Stephanie is responsible for their air service development and cargo portfolios. She works to attract, retain, and expand air service routes as well as to increase cargo volume. She also facilitates corporate and stakeholder relationships that maximize commercial air service operations at Philadelphia ensuring that PHL thrives a globally competitive gateway.
Prior to her current role, Stephanie was Director of Aviation and Economic Development, as well as the Director of the Tenerife Convention Bureau, for the Tenerife Tourism Corporation – the official tourism agency for the island of Tenerife, Spain, which is one of the leading tourism destinations in Europe. Prior to this, she worked as the Head of Procurement and International Projects in the Chamber of Commerce, Industry and Navigation of Tenerife helping to diversify the island's economy by attracting foreign direct investment and working with companies to increase commercial activity.
Stephanie is currently on the ACI-NA Air Service and Cargo Committees and serves as the ACI-NA Air Service Development Policy co-chair. She was previously a member of the United States Tour Operator Association (USTOA) Associate Board of Directors and holds an MBA and Masters in Marketing and Communications.
Justin Meyer, Deputy Director of Aviation – Marketing and Air Service Development, Kansas City International Airport (MCI)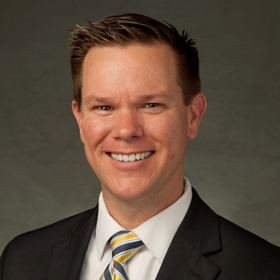 A 24-year veteran of the U.S. aviation industry, Justin rejoined the Kansas City Aviation Department in April 2014. He leads the marketing, communications and customer service efforts for the Kansas City Aviation Department's two airports. Additionally, Justin works with airline planners to increase flights and add new routes from Kansas City International Airport. Justin has been actively involved in the planning for Build KCI, the $1.5B new single terminal at Kansas City International Airport, where he advocates for the customer experience to be one of high accessibility and inclusiveness.
Sponsored by Cirium

Cirium has the number one source of aviation and air travel data — the Cirium Core. Cirium enables customers to fund fleets, build and maintain aircraft, transport passengers and improve traveler experience and our focus is to drive targeted, profitable and informed decisions. Our experts analyze millions of data sets each year to help airlines, airports, governments, metasearch, travel management companies and financial institutions to predict future market demand and make informed decisions about their business strategies. Cirium turns the complex into the simplified, with a suite of solutions that answer some of the biggest questions in the wider travel industry. Our business is built from decades of experience and innovations, driven from the growth in our portfolio through acquisitions of data intelligence companies, including Ascend, Innovata, Diio, FlightStats, Snowflake Software, and most recently Migacore. Cirium now employs a team of over 500 technologists, analysts, data scientists and market experts in EMEA, the Americas and Asia-Pacific.
Sponsored by Miami International Airport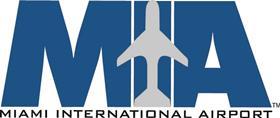 Miami International Airport (MIA) is a leading economic engine for Miami-Dade County and the State of Florida. MIA is the third largest gateway in the Americas for international passengers and the leader in international freight offering more flights to Latin America and the Caribbean than any other U.S. airport. MIA handles 79% of all air imports and 74% of all exports from the Latin American / Caribbean region. MIA serves as the hub for the distribution of perishable products, hi-tech commodities, telecommunications equipment, textiles, pharmaceuticals and industrial machinery.
The Airport is well positioned for future growth, with no slot controls or curfews, and exceptional passenger and cargo infrastructure, including new premium lounges and enhanced shopping & dining options.
MIA currently offers the ASIP6 financial incentive program for airlines establishing new passenger and cargo routes.