Boeing received no new orders for large commercial aircraft in January, and delivered only 13 aircraft – a trickle of activity for a company long accustomed to big orders and dozens of monthly deliveries.
The 13 deliveries included three 737NGs, among them one P-8A Poseidon reconnaissance aircraft to the US Navy and two commercial 737NGs to China Eastern Airlines.
Boeing stopped assembling commercial 737NGs last year, but had not handed over all NGs to customers, the company says. It halted 737 production in January amid the Max grounding.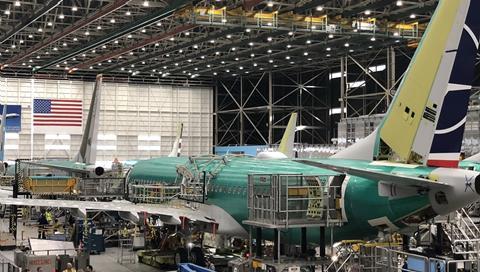 The other January deliveries included two 767-based KC-46A inflight refuelling tankers for the US Air Force, two 777s and six 787s, Boeing says.
By comparison, in December 2019 Boeing delivered 35 large aircraft, among them six 737NGs, three 767s, five 777s and 21 787s. The company received orders for three new aircraft in December 2019, though it received cancellations for five aircraft, bringing the net number of orders in December to negative two.
Airframers typically begin calendar years with relatively slow delivery rates, but increase activity through the year, with delivery rates often peaking at year end.