A LATAM Airlines Group Airbus A320neo struck a vehicle as the aircraft attempted to take off in the Peruvian capital Lima, and caught fire.
"LATAM Airlines Peru informs that its flight LA 2213, covering the Lima - Juliaca route, collided with a vehicle on its take-off run at Jorge Chávez International Airport," the airline said on 18 November.
"At this time, we can confirm that there have been no fatalities among the people onboard the aircraft," the carrier adds. "We are currently focusing on providing support to passengers and their families. We are also working in coordination with the corresponding authorities to support their investigations of this incident."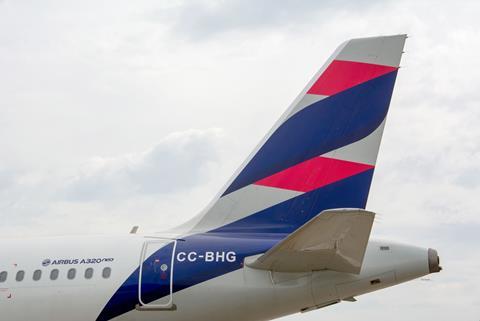 Several videos posted to social media showed the aircraft listing to the right, with its right wing on fire as it travelled at high speed down the runway. A time stamp on one video showed the accident occurred just after 15:00 local time. Images show that when the aircraft came to a stop, it appeared to be listing to the right. The airframe appears to be completely destroyed.
Local media reports that the aircraft hit a fire truck, on its way to another emergency, which was not authorised to cross the runway.
Fire brigade commander Luis Ponce Jara says in a television interview that two fire-fighters died when the aircraft struck it, Peruvian broadcaster Radio Programas del Peru (RPP) reports.
The aircraft involved in the incident was registered as CC-BHB, a five-year-old Airbus A320neo with 174 seats. Jara says there were 102 passengers and six crew on board, some of whom suffered minor injuries.
A notice to air missions (NOTAM) issued after the accident shows that the airport's runway 16/34 will remain closed until at least 13:00 local time on 19 November.