Mexican carrier Aeromexico has filed an amended reorganisation plan with a US bankruptcy court that includes a proposal to give lead lender Apollo Global Management an equity stake.
The plan is due to be assessed by the court on 6 December.
"Aeromexico will continue working with all of its key stakeholders to obtain court approval of the plan, solicit votes in favour of the plan … and emerge from the Chapter 11 process as expeditiously as possible," the airline says on 29 November.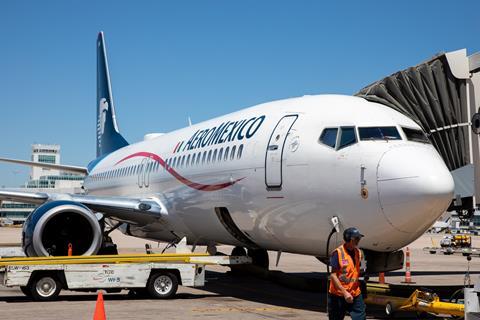 Earlier this month, Aeromexico said the so-called "Alliance proposal" for restructuring had support from strategic partner and shareholder, Atlanta-based Delta Air Lines. The plan "provides an implementable solution, through a solid group of long-term Mexican investors, to comply with foreign ownership requirements", it said.
The Mexico City-headquartered carrier, which filed for Chapter 11 bankruptcy protection in mid-2020, says creditors and investors would repay the loan held by Apollo.
The plan "represents a key milestone under the company's restructuring process", the airline says.
Apollo is also behind the initial public offering of US ultra-low-cost-carrier Sun Country Airlines. The Minneapolis, Minnesota-based carrier's shares began trading on the NASDAQ exchange in March 2021.