Aeromexico has successfully completed its restructuring and emerged from bankruptcy protection almost two years after Covid-19 forced it to enter the process.
"Today is an incredibly exciting day for Aeromexico and we are ready to soar to new heights as we emerge from Chapter 11," says chief executive Andres Conesa on 17 March. "We look forward to starting a new chapter in our company's history, backed by a sound financial base, solid capital structure and investors who have full confidence in our future."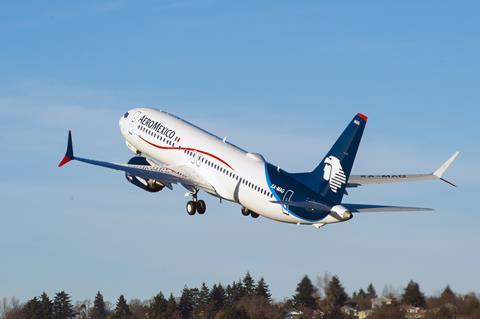 In January, a US bankruptcy court approved the Mexico City-based carrier's reorganisation plan, clearing the airline to exit bankruptcy protection, which it voluntarily entered in mid-2020 as the coronavirus pandemic stripped it of customer demand.
Late in the process, some of the airline's creditors objected to the reorganisation proposal, claiming it was marred by conflicts of interest involving parties including Delta Air Lines. Central to the objections was an arrangement between Delta and Apollo Management Holdings, the finance company providing Aeromexico with $1 billion in financing.
In February, the carrier said it had recognised restructuring costs of Ps10.6 billion ($531 million) during the fourth quarter of 2021, which included "accruals for recognition of certain creditors' claims of Ps.10.9 billion … primarily related to fleet leases, loans, financing and union agreements".
The carrier says it expects to have 145 aircraft at the end of this year – including 22 new aircraft it will receive during 2022 – up from 133 at the end of 2021, and will invest $5 billion over the next five years in "fleet and customer experience improvements".
Aeromexico is the second of three Latin American airlines to have its restructuring plans approved following bankruptcy declarations at the beginning of the crisis.
Bogota-based Avianca emerged from bankruptcy protection earlier this year, and Chile's LATAM Airlines Group is still awaiting court approval of its plan.