Qantas is to hire 8,500 more staff over the next 10 years, in its first hiring spree since it underwent a restructuring exercise in 2020 that saw the dismissal of thousands of workers.
The additional roles include pilots, engineers, cabin crew and airport staff, says Qantas, and follows commitments to more than 300 aircraft, along with strong recovery in travel demand.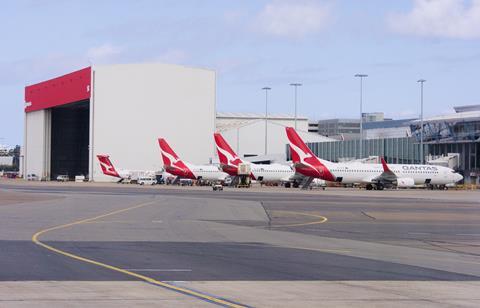 Qantas Group, comprising mainline operator Qantas and low-cost unit Jetstar, will hire more than 30,000 frontline staff over the next decade, accounting for regular attrition as well as growth. By 2033, it expects to have about 32,000 employees, compared to the 23,500 currently.
"Aviation jobs typically require specific skills, and so underpinning the recruitment drive is a massive commitment in training that will create a long-term pipeline of talent for the Qantas Group and Australian aviation more broadly," says the carrier.
The recruitment drive comes half a year after the airline group found itself beset by a series of operational woes – including record flight cancellations, lost baggage and long airport waiting times – caused mainly by a shortage of manpower.
Separately, Qantas is also setting up an engineering academy, which will provide the airline group with a steady pipeline of aircraft engineers as new aircraft enter its fleet.
The academy will start accepting students from 2025, and Qantas says it is in talks with unions and the industry to finalise how the academy will operate.
The group estimates it will need around 200 new engineering recruits every year – higher than the current national aviation engineer supply.
Qantas in May 2022 firmed up orders for close to 300 new widebody and narrowbody aircraft. More recently, it said it would be taking more than 20 used aircraft to meet short-term demand amid delivery delays.
Says Qantas group chief Alan Joyce: "In the near term, we're gearing up to meet the growth in all of the markets we serve. We have more aircraft arriving every month, and that means we need more pilots, engineers, cabin crew and others."