Australian low-cost carrier Jetstar is enjoying strong domestic and international recoveries, although supply chain issues are impacting its widebody and narrowbody fleets.
The carrier has already surpassed pre-pandemic domestic capacity, and on international routes the Qantas Group unit is at 80-87% of pre-pandemic levels, says Jetstar chief operating officer Matt Franzi. Notably, the carrier is operating to all the international points it served prior to the pandemic.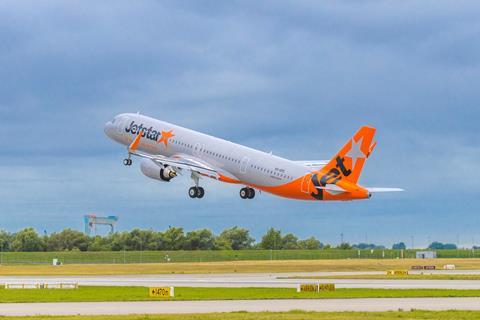 Trans-Tasman traffic to New Zealand is a particularly strong spot, with capacity 25% higher than pre-pandemic levels. Jetstar's domestic market in New Zealand, however, is at 80% of pre-pandemic capacity.
Jetstar's fleet is back to pre-pandemic levels, and by the end of the year will hit 79 aircraft, with 11 Boeing 787-9s and 68 Airbus A320 family aircraft, including new A321LRs. The carrier will have 11 A321LRs by the end of 2023, and 18 by the end of 2024.
As with most airlines, supply chain issues are a headache. On the 787 fleet, Franzi says that the aircraft effectively retains a "spare aircraft" to ensure resiliency – although this somewhat restricts capacity.
"We're still very challenged with a number of components stuck in what we call management control with Boeing, where they won't release them until the aircraft has a problem," says Franzi. "So it just makes recovery of defects a lot longer."
On the Airbus side, there are challenges with the fleet's Honeywell auxiliary power units (APUs).
"That supply chain is particularly challenged… probably the number one delay driver for our operation are aircraft without serviceable APUs, and so we're working very closely with Honeywell as well as Airbus around improving the reliability and the availability of spare parts for that component."
He stresses, though, that there are several more such examples. To help alleviate the situation, Jetstar is increasing its holdings of spare parts, and working with suppliers to "lock in" the supply chain. Geography is also a challenge given that Australia is a remote destination for the supply of spare parts.
Franzi adds that the Jetstar's Asia-Pacific units, Singapore-based Jetstar Asia and Jetstar Japan, remain a key part of the Qantas Group's overall strategy.
Still, Jetstar Asia's fleet is at just seven A320s, compared with 18 before the pandemic. Franzi says the Jetstar Asia fleet will hit nine aircraft by the end of the year - Franzi spoke to FlightGlobal during a visit to Singapore to mark Jetstar's move from Changi Airport's Terminal 1 to Terminal 4.
Though Jetstar originally took issue with the move, Franzi gives Terminal 4 high marks, and says that airside bus connectivity between Terminal 4 and Terminal 1 is very good. This is important for codeshare passengers transferring to and from Qantas and Emirates, which both operate at Terminal 1.
Meanwhile, Jetstar Japan is back at pre-pandemic capacity – Cirium fleets data indicates that it operates 18 A320s and two A321s.
Given that Japan has for the most part lifted travel restrictions, Franzi is confident of a strong rebound for the unit, in which Jetstar controls 33% and Japan Airlines 50%.