Scandinavian airline SAS sees "encouraging signs" of greater demand through the summer season but is warning that "significant challenges" remain as the spread of the Delta variant of Covid-19 delays its capacity ramp-up.
As the carrier disclosed its third-quarter results today, new chief executive Anko van der Werff observed that travel restrictions continue to "adversely affect" demand for air travel.
"The uncertainties surrounding the Covid-19 pandemic are far from over," says van der Werff. "Efforts to transform SAS's entire business must continue to offset lower demand with lower costs."
SAS posted a pre-tax loss of SKr1.4 billion ($162 million) for the period, a SKr700 million improvement on the same period last year. Revenue doubled compared with the second quarter, although it was still 70% below the pre-pandemic third quarter of 2019.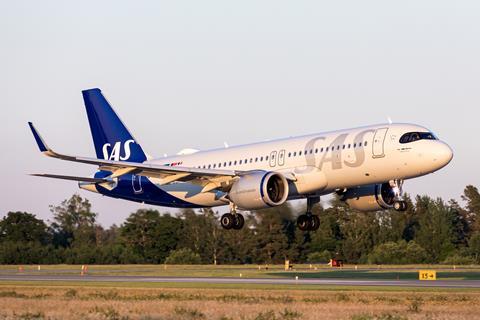 SAS's cash position remained stable at SKr4.4billion, on top of a SKr3 billion credit line secured with the Swedish and Danish governments.
"The recovery of the aviation industry depends greatly on the uncertain development of the pandemic," observes van der Werff. "We are expecting travel to increase gradually as more and more people are vaccinated worldwide, but we are also aware that demand has changed during the pandemic. SAS expects a greater number of leisure travellers and even more intense competition in the future."
He adds that with customers booking their tickets closer to their date of travel, the flexibility to ramp capacity up and down will become more important to the airline industry.