The last in our series of articles marking Flight's 110 years in aviation publishing examines how the magazine has come of age, and the challenges ahead for the aerospace sector
The most recent decade has proven to be as lively as every other, with the title's parent company on a mission to establish itself as a prime source of aviation news, data and analytics. As the world of publishing continued its drive towards online consumption of news, our free-to-air website, flightglobal.com, went from strength to strength alongside the Air Transport Intelligence premium news offering, which was later renamed as Dashboard. But our traditional publishing channels have remained strong, with the weekly Flight International providing its reputable broad aerospace coverage alongside the monthly Air-line Business.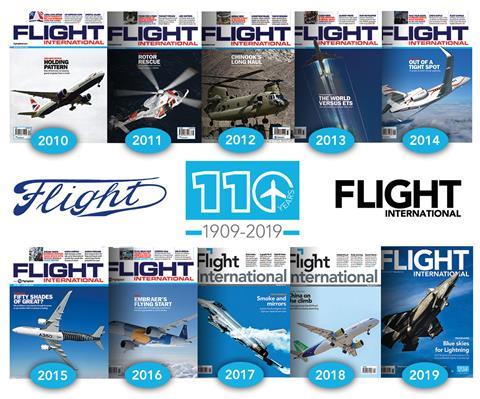 Meanwhile, daily news editions published under these two strong brands at air shows and major events continue to prove extremely popular among attendees. FlightGlobal had begun producing digital print replicas of Flight and Airline Business during the 2000s, but the advent of the Apple iPad a decade ago provided the springboard for the creation of an iOS-format dynamic digital edition. Subsequently adapted for Android compatibility, the digital apps are now optimised for both tablets and mobile phones.
Their introduction meant our readers no longer had to wait for their magazine to drop on to their doormat, allowing them to read the latest edition almost immediately after closing for press. The global strength of our publishing brand names enabled FlightGlobal to develop a broad portfolio of aviation conferences, which over the last decade or so have addressed the key issues facing the industry in sectors such as safety, airline alliances and distribution – and most recently around the big data discipline.
As our business expanded, in 2015 Flight International editor Murdo Morrison moved up to a new role as head of strategic content after 14 years in charge. He was succeeded in the editor's role by then managing editor Craig Hoyle, who continues in the hot seat. During the 2010s our parent company Reed Business Information (RBI) set off on an acquisition-led expansion across the aviation community, buying fleets, schedules, flight-status and analytics firms. This turned FlightGlobal into a broad data and analytics business, of which publishing was becoming a smaller but still crucial part.
The magazine names were the most recognisable aspect of the expanding group and in 2016 their brands were connected directly to the data business, resulting in arguably the most dramatic changes to Flight's masthead in its history. Airline Business underwent an even more significant change, being renamed with a "Flight" prefix and parting company with its traditional colours for a palette of grey and blue more closely associated with the parent brand. At the beginning of 2019, the increased drive into the aerospace data sphere prompted the business to adopt a new umbrella brand – Cirium – which focused on delivering an ever-broader portfolio of data and analytics for the aviation and air-travel industries.
FlightGlobal continued as the core publishing division and as Flight reached the grand old age of 110 years, it welcomed back a more familiar look with the masthead reverting to a style more associated with our previous 10 decades. Likewise, Airline Business revived its traditional colours, along with a fresh take on its original masthead design. In August 2019, Flight International, along with its publishing and conferences siblings, set sail from RBI to start a new chapter under the ownership of DVV Media International Ltd.
The portfolio comprises Flight International and Airline Business and the daily news issues along with a portfolio of aviation conferences and awards, including The Airline Strategy Awards, other publishing activities such as FlightJobs, and the supporting websites. "This is a significant step forward for our organisation," DVV managing director Andy Salter said of the FlightGlobal acquisition. "The new portfolio means we now have a comprehensive offering across… the transport and logistics business information sector."
Flight's mission in 1909 was to be "devoted to the interests, practice and progress of aerial locomotion and transport". Today's Flight team continues on that original mission after 11 incredible decades as we embark on our next.
"As Flight enters our 12th decade, which must make us one of the longest serving business-to-business titles in the world, let alone aviation, we do so in an era where the challenges for the industry appear as great now as they did for those early air pioneers," says FlightGlobal's vice-president for publishing and conferences, Mark Pilling.
"These range from the environment and diversity agenda to the need for civil and military aircraft that satisfy ever-increasing customer and operational demands. Aviation is a fascinating, absorbing and captivating part of our world and we are dedicated to covering it to the best of our abilities."