Wet-lease specialist SmartLynx Airlines is to expand its fleet with Boeing 737 Max jets, having agreed to take a pair from lessor SMBC Aviation Capital.
The aircraft are both Max 8 variants, powered by CFM International Leap-1B engines.
SmartLynx says deliveries of the aircraft are "underway" and that they will enable it to address "growing demand" from European and other markets.
The aircraft's range, it adds, provides the change to explore "new market opportunities".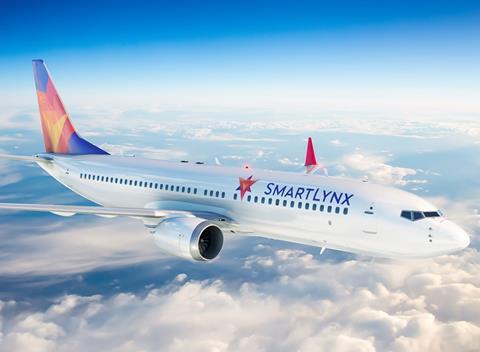 "There's no doubt that the [737 Max 8] is the right aircraft for us, and we were pleased to work with SMBC to make it happen," says SmartLynx chief Zygimantas Surintas.
"Not only will these aircraft allow us to expand our services and the markets we can cover, it will also allow us to ensure even better-quality service and unmatched technical reliability."
SmartLynx has focused, in recent years, primarily on Airbus A320-family jets, but has also stepped into long-haul operations with A330s.
SMBC Aviation Capital says the two Max 8s will be introduced to the carrier's fleet in April.
But it states that "further type additions" are planned later in the summer season.
SmartLynx has entered into a partnership with Boeing covering entry-into-service support for the jets.