Production of ATR turboprops should stabilise at around 50 aircraft per year in 2023, as the market for regional aircraft returns, according to one of the joint venture's owners.
Leonardo, which has a 50% share in the airframer alongside Airbus, says it is already seeing signs of increasing demand.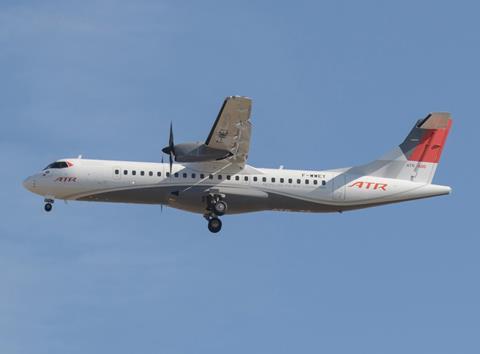 Lucio Valerio Cioffi, Leonardo general manager, told a third-quarter results briefing on 5 November that "ATR is recovering faster than the regional market itself" and is even "recovering faster than expected a few months ago".
Cioffi predicts deliveries will rise from a low point of 10 aircraft in 2020, to "more than double, almost triple" this year – 16 were shipped in the first nine months – with a "material ramp-up from 2023".
"We expect ATR to [deliver] around 50 aircraft per year in a couple of years. Starting from 2023 it will be around 50 and will be round about 50 [in the coming years]," Cioffi says. In the three years preceding the crisis, beginning in 2017, ATR shipped 78, 76 and 68 aircraft.
Market appeal will be boosted by the arrival of new variants such as the ATR 72-600 Freighter, deliveries of which are ongoing, and the short take-off and landing version of the ATR 42-600, which should arrive from late 2023 or early 2024, he adds.
Although the ATR 42- and 72-600 are already certificated to use 50% blends of sustainable aviation fuel, Cioffi says it is "accelerating the path to 100% SAF" – a milestone expected by 2025.
Further out, "Leonardo is also exploring other options such a hybrid-electric configuration", he adds.
Leonardo is both a part-owner of ATR and a supplier to the programme, with 16% of turnover at its aerostructures business generated by production of fuselages and vertical fins for the twin-turboprop.