Logistics specialist DHL Express is to introduce a pair of Airbus A321 freighters, to be operated by wet-lease capacity provider SmartLynx Malta.
SmartLynx Malta had emerged last year as a customer for A321 freighters from Vallair as it sought to enter the cargo aircraft market.
The company has reached a partnership agreement to take the aircraft into DHL's European fleet, supplying capacity to meet increasing express cargo demand.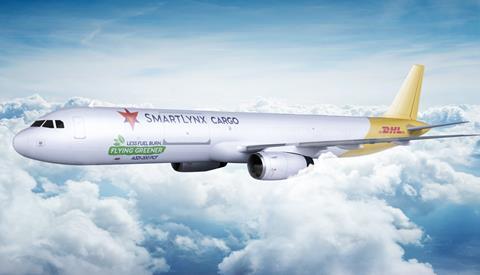 "Continually modernising our fleet with the most efficient and reliable cargo aircraft produced is vital to our success," says DHL senior vice-president for global air fleet management Geoff Kehr.
He says the A321 is a "natural" addition to the carrier's freighter fleet, given that it has introduced the Airbus A330-300 converted freighter.
Smartlynx Malta is intending to add another pair of A321 freighters over the course of this year and up to four more in 2022.
"This development is a substantial step forward in our strategic plans for the future," says chief executive Zygimantas Surintas.
"Having strong partnerships is a decisive factor to growing our business even further and in a cleaner, more sustainable manner."