Japan Airlines has picked the Airbus A350 as its future flagship aircraft, as it retires its fleet of domestic Boeing 777s by 2023, and reduces the number of large widebodies in the medium term.
In a medium-term business update released alongside its full-year financial results, the Tokyo-based carrier discloses that it will continue to introduce the A350 on domestic flights to replace its 777s, which were already on their way out.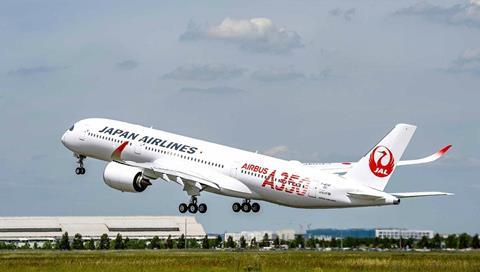 In October, JAL announced the retirement of up to 24 777s — comprising -200s and -300s used on domestic routes, and a number of -200ERs operating international flights. It will also move a number of -200ERs from the international fleet to operate domestic flights in the interim.
The Oneworld carrier adds that it will introduce the larger A350-1000 on flights to North America and Europe from fiscal year 2023, which begins on 1 April 2023. Cirium fleets data indicates that the carrier has 13 examples on order.
The move will mean that the Boeing 777-300ER, the carrier's current long-haul aircraft of choice, will no longer be the international flagship.
In its latest business update, JAL says the combined 777 fleet will be reduced to just 13 examples by FY2023, down from 39 examples as at April 2020. The A350 fleet, meanwhile, will grow from five to 18 aircraft.
Underpinning the move is JAL's strategy to reduce the proportion of large widebodies in the fleet. At the group level, large widebodies, which JAL defines as the A350 and 777, made up about 18% of the pre-pandemic fleet. The carrier hopes to cut that down to 14% by FY2023.