The International recovery of Qantas Group continues to gather pace with strong demand driving the addition of more routes and frequencies.
The lifting of Covid-19 travel restrictions in key markets, as well as the northern summer peak period, have helped push up international demand, says Qantas Group in an update.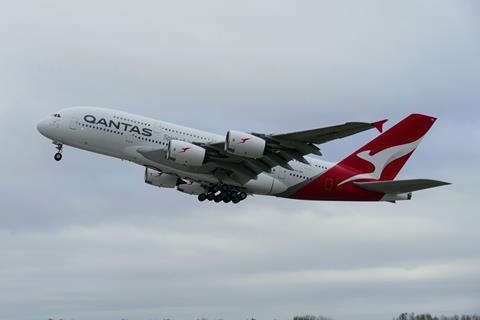 By the end of the carrier's FY2022 fourth quarter on 30 June, it expects to operate just under 50% of its pre-pandemic international capacity. This will rise to 70% of pre-pandemic capacity by the end of its FY2023 first quarter on 30 September.
Following the relaxation of New Zealand's tight travel restrictions, the Trans-Tasman market has "ramped up significantly" for both Qantas and low-cost unit Jetstar Airways. Some services to Auckland from Melbourne and Sydney are using Airbus A330s.
A re-boot of Japan is in the cards with Tokyo's lowering of travel restrictions, with Jetstar to resume its Cairns-Tokyo and Cairns-Osaka from late July. Qantas will also resume flights to Japan from September.
Bali, long shutoff from Australian tourism, will see Jetstar return in force. From late June, Jetstar will serve the resort destination from all seven Australian cities from which it operated Bali-routes before the pandemic.
Several other international services will also be re-launched in the coming months, including Sydney-Manila in late June, and Sydney-Santiago in late October.
The re-boot of Qantas's Sydney-San Francisco service, however, will be pushed back from 30 July to 30 October.
Qantas will bring back a third A380 from service, and use the aircraft on the Melbourne-Los Angeles route from 6 June.
In addition, the carrier's Sydney-Darwin-London routing using Boeing 787-9s will be converted to a Sydney-Singapore-London route from 19 June, and upgauged to the A380.
The group's domestic network continues to see strong demand. The carrier warns, however, that fuel prices have kept rising, which is pushing ticket prices higher.