Thai low-cost carrier Nok Air, which recently filed for business rehabilitation, will improve fleet efficiency, seek alternative revenue streams, and adjust its marketing efforts - all in a bid to reduce costs.
The latest move comes as the troubled carrier's securities were given the 'caution' sign by the Thai stock exchange, because its shareholder equity has fallen below 50% of its paid-up capital.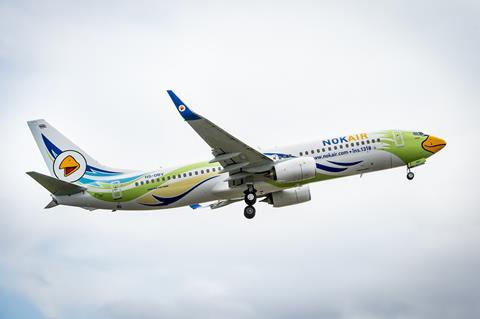 Outlining its plans to turn the business around, Nok says it hopes to improve fleet efficiency by adding more night flights, improving its maintenance scheduling and adjusting its fleet.
Nok did not elaborate, except to state that these will help reduce costs. The carrier operates 14 Boeing 737-800s and eight Bombardier Q400 turboprops.
The carrier adds that it will review its network and fleet strategy "to reflect [international travel] restrictions" in the short term.
"For the long-term, the company plans for international expansion as international air travel becomes viable," states Nok, without providing any details.
The carrier currently operates only a domestic network, amid restrictions imposed globally to curb the spread of the coronavirus outbreak, which has crushed travel sentiment.
Nok adds that it will also embark on debt restructuring, through negotiations with its creditors to improve its cashflow.
"This is being carried out by negotiating for debt and interest payment suspension, extensions to bill settlement period, reduction in debt and interest (fully or partially), and leasing fee renegotiation to reflect the current state of the aviation industry," it states.
On revenue, Nok says it aims to increase ancillary revenue, instead of air travel and cargo-related revenue. To this end, it is looking to increase partnerships with non-airline partners.
Nok saw revenue for the quarter ended 30 June nearly halve, as it posted an operating loss of Bt782 million ($25 million) for the period.
It acknowledged that "prevailing fixed costs including aircraft leasing and maintenance with reduced incomes [has caused] adverse impact on the company's liquidity situation". Troubles at its now-shuttered long-haul subsidiary NokScoot also hurt its financial position.
Nok filed for business rehabilitation in July, becoming the second Thai carrier after flag carrier Thai Airways to do so.