Nok Air needs to work out a viable fleet strategy before putting pen to paper on the first draft of its rehabilitation plan, which is now due for submission on 15 April after the airline got a one-month extension.
The Thai low-cost carrier is permitted under law to apply for another one-month extension, which would give it around seven weeks from now to finalise its plan. Creditors then need to vote on whether to accept or reject the plan.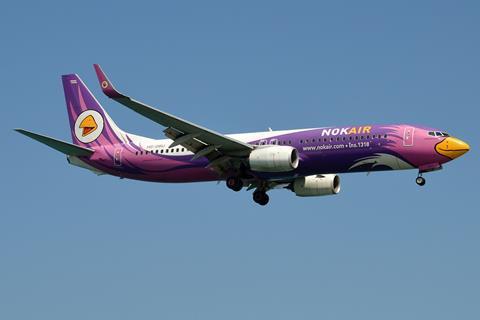 A well-thought-out fleet strategy, one that will ultimately lead the carrier back to profitability, will be more likely to convince creditors to give the plan the thumbs up.
Drawing lessons from other airlines, Nok should carefully decide what its target market is and structure its fleet accordingly. One of the reasons often cited for Virgin Australia's previous downfall is its ambitions to fly internationally, which ended up detracting from its lucrative domestic business.
For Nok, if it deems the near- to medium-term future of international flying too unpredictable, it should not baulk at restructuring itself into a primarily domestic carrier. Shuttling tourists to and from Bangkok and Krabi may not be in the same league as cross-border flying, but at least aircraft assets are being put to work and it can make for a profitable strategy.
Nok's becoming a domestic-only carrier, at least temporarily, would be a better result than liquidation, which is a possible outcome should creditors vote to reject its rehabilitation plan. Creditors' number one goal is to get as much of their debts repaid from a newly profitable carrier; whether Nok achieves that with local hops or far-flung international jaunts is largely beyond their concern.
SOUNDING OUT THE MARKET
At the moment, Nok's fleet has only two types: Boeing 737-800s and De Havilland Canada Q400s, Cirium fleets data shows.
In January, it sent out a request for proposals (RFP) to lessors that showed some of the aircraft types it is considering for its post-rehab future. Besides existing aircraft types, the airline included in the RFP ATR 72-600s, two Boeing widebodies of around 300 seats (exact model unspecified), and a 737-800 freighter.
The widebody request would suggest a move into longer-haul, although in Thailand there are short widebody hops on domestic routes, partly because some government officials are able to travel in premium cabins as a perk. The freighter suggests the airline is noting the Covid-19 trend of freighter operations compensating for depressed passenger demand, while the ATR would presumably be either a complement to or replacement of its existing Q400 turboprops.
Some think ATRs would not go down well with the Kingdom's flying public, which is accustomed to the relative quietude of jet travel. Others reckon passengers in the market for a cut-price fare will hop on anything with wings.
Bangkok Airways is the only ATR operator in the country with 15 in-service and stored examples, Cirium fleets data shows. Nok already operates eight Q400s, which have all been in the fleet for at least four years or more, which would suggest it has a relatively good grasp of local passenger attitudes towards turboprops.
BUILDING OR BURNING BRIDGES
The airline also needs to carefully manage its relationships with lessors, some of which it has irked after essentially pitting them against the rest of the leasing community with January's RFP issuance. Competition for tenders in any industry is normal and healthy, and leasing is no different – but lessors and airlines also do business based on long-term relationships and mutual trust.
Nok has eight current lessors, five of which are the among the top ten biggest lessors by fleet value globally, according to Cirium's Portfolio Tracker: Q4 2020.
The RFP pits current lessors against prospective lessors as Nok could decide to return leased aircraft in its current fleet as part of its restructuring and then lease aircraft on more favourable terms from other lessors, Cirium understands.
This approach risks burning bridges with current lessors. One lessor to Nok has told Cirium it is loathe to do future business with the carrier due to how the carrier has communicated during the restructuring.
But in the low-demand Covid-19 environment in which it is difficult to place aircraft, lessors may not be able to afford to turn their noses up at any opportunity.
"People seem to have a short memory and it's all driven by supply and demand," the lessor with exposure to Nok tells Cirium.
BUYING A FLEET
One strategy Nok's rehabilitation planners have considered is buying a fleet of aircraft from the secondary market, according to a person familiar with their thinking.
However, there are several reasons why this may not be a good idea, one of them being that ownership, while sometimes cheaper, does not provide the same flexibility as leasing. Nok would have to worry about managing residual values and other aspects of aircraft ownership that leasing relieves. Aircraft generally have a useful life of about 25 years and it is difficult to project that far ahead what the market for a certain asset will look like.
Compatriot Thai Airways is in the process of trying to shift Airbus A380s and 747s that it owns as part of its own rehabilitation process. That carrier would not have imagined when it first took on those widebodies how depressed the market would later become for those assets.
ALL IN THE FAMILY
Creditors will also be wondering how much of a role the Jurangkool family will continue to play in Nok post-restructuring. Would they be willing to cede control to a new investor, whether domestic or foreign?
Nok's chief executive Wutthiphum Jurangkool was also cited in a 2 March Bangkok Post article as saying that his family, which controls about 75% of Nok, has proposed to acquire stakes in two other Thai carriers. He would not name them, but said it was two of these six airlines: Bangkok Airways, Thai AirAsia, Thai AirAsia X, Thai Smile Airways, Thai Lion Air and Thai Vietjet.
Nok is itself seeking fresh equity to recapitalise the business, so a plan by its biggest shareholders to splurge on a stake in a rival has naturally raised eyebrows among some market observers. One observer close to Nok thinks Jurangkool is just "putting a story out there to try to convince people they are not going to head to liquidation".
Creditors to Nok will want to know how these potential equity purchases by the Jurangkools will benefit Nok.
Once the rehabilitation plan is distributed to creditors, which could be as early as next month or in May, the market will be able to better judge the carrier's overall strategy for emerging from the pandemic as a more profitable business.
Cirium has contacted Nok Air for comment.
Opinion by Michael Allen of Cirium