German leisure operator TUIfly is to embark on union discussions to reduce the airline's fleet, pointing out that over-capacity meant it was unable to achieve adequate load factors even before the coronavirus crisis.
TUIfly is intending to halve its fleet of 39 aircraft, cutting crew, technical and administrative positions. But it stresses that it aims to secure as many long-term jobs as possible.
"This will only succeed if we adjust the size of the airline to a healthy and future-proof level," said TUIfly Germany managing director Oliver Lackmann, after a meeting of the company's supervisory board.
The supervisory board has mandated the management to enter negotiations with works councils and trade unions.
"We are now at the beginning, not at the end, of the negotiations on the design of the restructuring," says Lackmann.
TUIfly has been at a "complete standstill" since mid-March, in terms of its usual business, and Lackmann points out that TUIfly already had difficulty – even in peak season, before the pandemic – achieving profitable load factors.
Air Berlin and Eurowings would previously have wet-leased between seven and 14 aircraft, but the over-capacity situation has deteriorated.
"We must make TUIfly fit for the future," says Lackmann, reducing the fleet to align with the other carriers of TUI Group.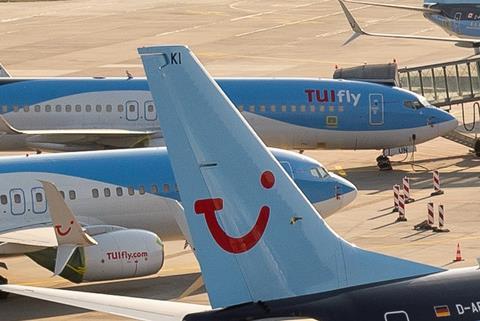 Five airlines make up the leisure group's overall fleet. TUI Group intends to bring its European operators under a single Hannover-based company, centralising the flight division.
"Nobody takes the decision lightly," Lackmann stresses. But he adds that the company wants to reach an agreement with personnel "as quickly as possible".
He says an employment-protection scheme remains in place until the end of 2021, which excludes dismissal for operational reasons.
"We see this agreement…as an opportunity to make the restructuring as socially responsible as possible," he adds.
TUIfly says the restructuring will concentrate its operations at Hannover and Dusseldorf, as well as Frankfurt, Munich and Stuttgart.