The US Navy (USN) has awarded Boeing a $1.5 billion contract for 18 P-8A Poseidon maritime patrol aircraft.
The deal is for six aircraft for the South Korean navy, four aircraft for the Royal New Zealand Air Force and eight aircraft for the USN, Boeing says on 30 March. New Zealand and South Korea are scheduled to received their first aircraft in 2022 and 2023, respectively.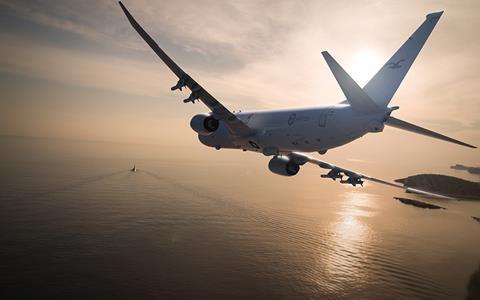 A ship and submarine hunting maritime patrol aircraft, the P-8 is based on the commercial 737-800. However, the jet's airframe has been ruggedized, a bomb bay has been installed to drop torpedoes and its wings have pylons for weapons such as Harpoon anti-ship missiles. The aircraft can also carry up to 129 sonobuoys.
The aircraft is primarily operated by the USN, which plans to order 117 examples in total to replace its aging fleet of Lockheed P-3C Orion maritime patrol aircraft.
Other operators include the UK, Australia, India and Norway.
In January 2020, the USN said in a request for information that it is interested in expanding the capabilities of the P-8A to include the ability to carry new anti-ship cruise missiles, bombs, sea mines and decoys. Boeing told FlightGlobal at the Singapore air show that the new capabilities could increase the aircraft's international sales potential.