The US Navy (USN) has taken delivery of its 100th Boeing P-8A Poseidon maritime patrol aircraft.
The company notes that this is the 94th mission capable aircraft, with six jets earmarked as test examples.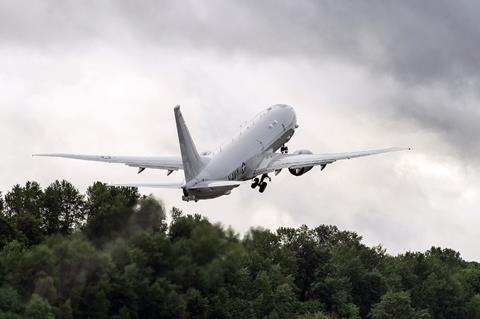 "We're honoured by the navy's faith and confidence in our employees and the P-8 system," says Stu Voboril, vice-president and programme manager. "Our focus has been, and will be, on delivering the world's best maritime patrol aircraft, bar none."
Boeing adds that the 737NG-based type, which is also operated by Australia and India, has accumulated 300,000 flight hours.
In late March, the USN awarded Boeing a $1.5 billion contract for 18 P-8As. This comprised eight examples for the service, plus for the South Korean navy, and four for the Royal New Zealand Air Force.
The P-8A features the fuselage of the 737-800 mated with the wing of the 737-900ER. It is in the process of replacing the Lockheed Martin P-3C Orions operating with the USN and other militaries.
In February, the UK Royal Air Force also welcomed its first of an eventual nine examples at its Kinloss base in Scotland.