The US State Department has approved the possible sale of 10 Boeing AGM-84L Harpoon Block II air-launched missiles for Morocco's fleet of Lockheed Martin F-16 fighters.
The sea-skimming missiles and related equipment are estimated to cost $62 million, according to a Defense Security Cooperation Agency notice posted on 14 April. Associated equipment includes containers, spares, and repair parts, support and test equipment, as well as publications and technical documentation.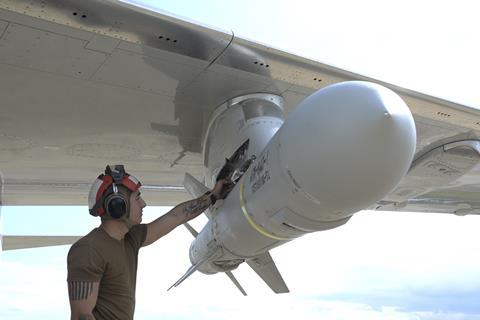 Rabat is a major non-NATO ally of the USA and a longtime weapons buyer. The Royal Moroccan Air Force operates 23 examples of the F-16C/D, with another 25 units on order, according to Cirium fleets analyser.
"The proposed sale of the missiles and support will increase the Moroccan air force's maritime partnership potential and align its capabilities with existing regional baselines," says the Defense Security Cooperation Agency. "Morocco intends to use the missiles on its F-16, multi-role fighter aircraft to enhance its capabilities in effective defense of critical sea-lanes. Morocco will have no difficulty absorbing these missiles into its armed forces."
Morocco sits strategically at the Strait of Gibraltar, the 8.9mi (14.3km) entrance to the Mediterranean Sea. With the UK's territory of Gibraltar and Spain on the other side of the strait, three key allies of the USA control the waterway to the Atlantic Ocean.
For the Russian navy, which lacks warm water ports, being able to escape to the open ocean via the Mediterranean is important. Many of the country's ports, such as St. Petersburg, are blocked by ice in the winter. Historically, the country has been anxious to hold onto ports in the Black Sea from which it can navigate through the Mediterranean and into the open ocean during all seasons.
The US Navy says the Harpoon flies at high subsonic speeds just above the sea surface and has a range of more than 67nm (124km) - more than enough to cover the entrance to the Strait of Gibraltar.
The US State Department also approved the sale of 10 Harpoon anti-ship missiles to India n 13 April.