Global passenger jet flight numbers declined overall in September compared with the prior month, reflecting typical seasonality in demand as the northern summer peak season drew to a close, Cirium data shows.
However, activity remained at approximately half the level recorded for 2019.
As of 7 October, the global regions were experiencing decidedly mixed fortunes with seven-day rolling average flight numbers compared with the seventh day prior down 8.2% for European operators, where confirmed Covid-19 cases were again rising sharply in many countries.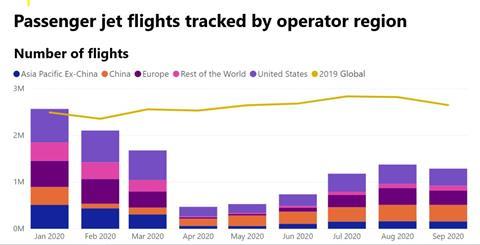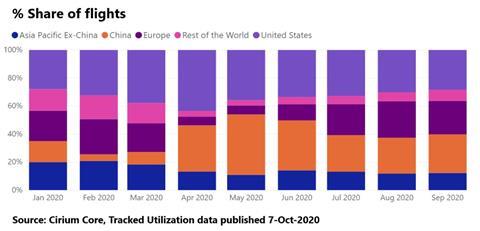 US operators, having remained in positive territory since 21 September, recorded a 3.7% week-on-week increase for 7 October, while China was at +2.3%. The rest of Asia-Pacific posted an encouraging rise of nearly 6%.
Compared with the equivalent day last year total flights flown by Chinese operators were only 1.6% down, but US operators were nearly 50% down and Europe, Asia-Pacific excluding China, and the rest of the world were down by more than 60%.
The prevalence of government-imposed cross-border travel restrictions and quarantine requirements has resulted in a huge disparity in the impact of the pandemic on international operations versus domestic. At 7 October daily tracked international flight numbers remained down by more than three-quarters compared with the equivalent day last year, while domestic activity was down approximately 35%.
Cirium classified just over 8,200 passenger jets as having in-storage status at 7 October, equivalent to approximately 31% of the global fleet.