Qatar Airways plans to rapidly expand its network for the summer season to over 1,200 weekly flights and 140 destinations as it ramps up capacity into what it hopes is the tail end of the pandemic.
The Doha-based Oneworld carrier's network is set to comprise 23 destinations in Africa, 14 in the Americas, 43 in Asia-Pacific, 43 in Europe and 19 in the Middle East.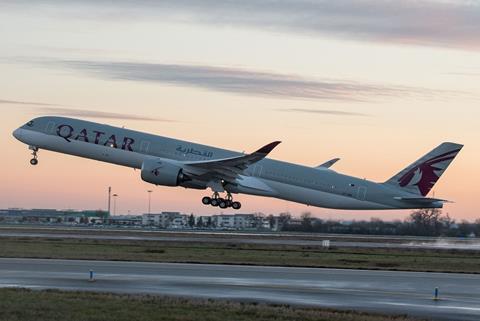 "We are proud to lead the recovery of international aviation, implementing the highest standards of bio-safety and hygiene and investing in the latest innovations to simplify travel and restore passenger confidence during the most challenging period in aviation's history," states group chief executive Akbar Al Baker.
"Having never stopped flying throughout the pandemic, we have used our unrivalled experience and modern, fuel-efficient fleet to operate a sustainable and reliable network our passengers, trade partners and corporate customers can rely on. We also continue to offer the largest international network, including launching seven new destinations, to provide the connectivity our passengers and cargo customers need."
Cirium data shows that the Middle Eastern carrier has held its capacity roughly steady over the past year, at a seven-day average of around 25 flights per day, excluding two short periods of significantly lower services.
This compares with an equivalent capacity of around 55 flights per day through 2019.
Qatar Airways highlights that through its cargo service it has helped to transport over 500,000t of medical supplies and more than 15 million doses of Covid-19 vaccines to over 20 countries.