Strong passenger demand continued in October as fresh IATA figures show airline traffic running at almost three-quarters of pre-pandemic levels for the month.
Passenger traffic as measured in RPKs in October was 44% higher than the same month last year and reached 74.2% of 2019 levels. That is a fractionally higher than 73.8% of pre-pandemic traffic reported in September.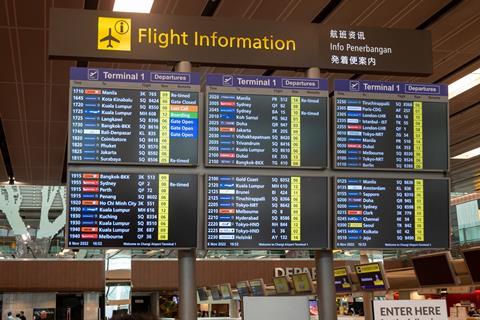 IATA director general Willie Walsh says: "Traditionally, by October we are into the slower autumn travel season in the northern hemisphere, so it is highly reassuring to see demand and forward bookings continuing to be so strong. It bodes well for the coming winter season and the ongoing recovery."
The improvement was driven by international markets, as Covid restrictions continue to be eased. International traffic doubled in October over the same month last year. By contrast, domestic traffic was fractionally down on October 2021, reflecting the impact of continued restrictions in the key Chinese market.
It means the recovery in international air traffic, which has consistently lagged that of domestic markets, is approaching parity in terms of how much of pre-pandemic levels have been recovered. Domestic traffic was at just under 78% of 2019 levels in October, while international traffic was 72% recovered. The previous month domestic traffic had been 81% of pre-pandemic levels while international traffic was still below 70% that of September 2019.
IATA says forward bookings have increased to around 75% of pre-pandemic levels for international travel following market reopenings in Asia, while domestic bookings remain at around 70% of 2019.
Airlines reduced capacity fractionally compared with September, reflecting the seasonal impact of the northern hemisphere summer ending. Consequently October passenger load factor climbed fractionally compared with September to reach 82% and was almost four points above the year-to-date average.
North American, European and Latin American carriers posted load factors in excess of 80%, recording 86.4%, 84.8% and 83.3% respectively in October.