United Airlines expects to transport 8.3 million passengers during the end-of-year holiday travel season, almost 2 million more passenger than last year.
The Chicago-based company predicts on 14 December it will operate nearly 3,700 flights daily during the period, a level of activity close to pre-pandemic levels and greater than during the traditionally hectic Thanksgiving period last month.
Chicago O'Hare International airport will be the airline's busiest hub, with an average of 410 flights every day, followed by United's hubs in Denver, Newark and Houston, it says.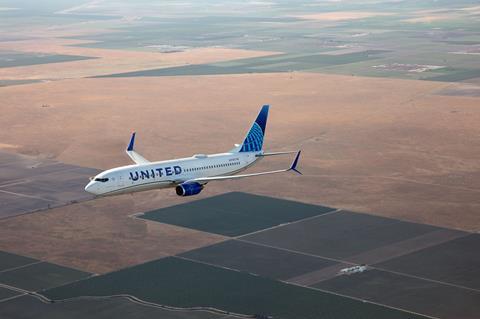 The airline predicts 2 January will be its busiest day, with an expected 480,000 customers travelling on United jets.
"Thanks to remote work, the holiday travel period is getting longer and demand is less concentrated on peak days," the company says. "The days right before Christmas and around New Year's Day are still the busiest – but flights on off-peak days are booking fuller compared to 2019."
According to the US Transportation Security Administration, which handles security checkpoints at about 450 airports across the country, the busiest travel day in 2022 so far was 27 November, the Sunday after the Thanksgiving holiday, with 2,560,623 passengers screened.
Earlier this week, United announced an order for up to 300 new Boeing jets as it sees strong growth through the rest of the decade. The company ordered 100 787s and took options to purchase 100 more, in what it calls the largest-ever widebody order by a US carrier. In addition, it ordered another 100 737 Max aircraft – the conversion of 44 options, to be delivered between 2024 and 2026, and 56 additional orders for delivery between 2027 and 2028.
Chief executive Scott Kirby said the airline hired 15,000 new employees in 2022, of which 2,400 are pilots. It plans to hire 2,500 more pilots in 2023, with the goal of adding 10,000 pilots this decade. In addition, more than 18,000 new flight attendants will join the company in the coming years, as will more than 7,000 maintenance technicians by 2026, United said.