United Airlines is adding more domestic routes and upping international flying as US consumers book more flights following a year-long global health crisis.
On 27 May, the Chicago-based carrier will add 26 new non-stop routes between several Midwest US cities – including Cleveland, Cincinnati and Milwaukee – and popular summer holiday destinations, such as Hilton Head, Portland (Maine), Pensacola and Savannah.
The flights will run through the Labor Day holiday in early September, helping United capitalise on the busy summer travel season. United's regional partners will operate the flights using "CRJ550s," which are 50-seat variants of the typically 70-seat MHIRJ CRJ700.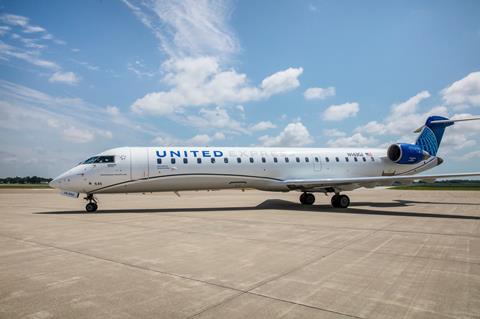 United will resume 20 other domestic routes it suspended last year, bringing its domestic schedule to about 58% of May 2019 levels.
"Internationally, in May United will fly more than 100% of its pre-pandemic schedule to Latin America compared to what it operated in 2019, including more flights to Mexico, the Caribbean, Central America and South America," the airline adds.
United intends to operate 46% of its total 2019 international schedule. It will resume flights to Tokyo and European destinations that include Milan, Rome, Amsterdam, Munich and Tel Aviv, United says.
"In the past few weeks, we have seen the strongest flight bookings since the start of the pandemic," says Ankit Gupta, the airline's vice-president of domestic network planning and scheduling. "As we rebuild our schedule to meet that demand, adding in seasonal point-to-point flying is just one of the ways we are finding opportunities to add new and exciting service."
United plans in May to operate 52% of its total May 2019 schedule. That is up from 14% in May 2020, just weeks after the World Health Organization declared the coronavirus a global pandemic, prompting numerous countries to lock down and impose strict restrictions on movement and travel.
Last week, United chief executive Scott Kirby said the airline was on track to stop burning cash by the end of March. But he added that United remains "far" from a return to profitability and faces the long-term challenge of paying down a considerable amount of debt acquired during the pandemic.
United held nearly $25 billion in long-term debt at the end of 2020, up from $13 billion one year earlier.
The carrier, like peers, has haemorrhaged cash in the past year. Last spring, United was burning about $40 million in cash daily, though it slowed outflows to about $19 million daily in the final three months of 2020.