United Airlines' chief executive Scott Kirby says the carrier will not turn a profit until business travellers and long-haul international travellers return in greater numbers.
Speaking during a 29 April event sponsored by The Washington Post, Kirby says that while people have become accustomed to remote work, companies and employees will not maintain the work-from-home trend forever.
"The pandemic has not changed human desire to be together and to connect," he says. "Business travel is not about transactions, it's about building relationships."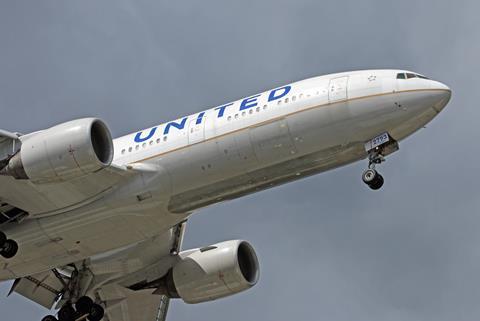 "We need to get back to about 65% of business demand and international long-haul demand to get to break even," he adds. That can be achieved at the "end of this year, sometime early next year".
For the moment, ahead of the busy summer vacation travel season, the airline is beefing up its domestic schedule to leisure destinations that offer outdoor activities, such as beaches, theme parks and national parks.
Earlier this month, the Chicago-based airline reported a $1.4 billion loss in the first quarter of 2021. That came on the heels of a full-year 2020 loss of $7.1 billion.
At the time, United predicted that in 2023, if not sooner, it will exceed 2019 adjusted earnings, which exclude the impact of interest, taxes, depreciation and amortisation.
Kirby says he sees business travel accelerating by the end of 2021, with travel to Europe returning "by the end of the summer, but Asia is probably going to take a little longer before all those borders open".
Three European countries which have opened borders to vaccinated US citizens recently – Iceland, Croatia and Greece – have seen a rise in vacationers, he says. United announced additional flights from its US hubs to those destinations last week, and demand for tickets is now "through the roof", Kirby says.
While the airline has considered but not required vaccination of staff and customers, Kirby says he is encouraging it. He adds that about 50-60% of United's employees have been vaccinated.
"I continue to wish we could get to the point where we are all vaccinated but we haven't mandated it quite yet," he says. "My own view was that it is a safety issue, it is a health issue, we are all better off if we get vaccinated."
SUSTAINABILITY EFFORTS
United is making a name for itself in the environmental sustainability space, and Kirby highlighted the airline's efforts to reduce greenhouse gas emissions – a long-time personal passion, he says.
The carrier has committed to carbon-neutrality in 2050, and is investing in numerous technologies to achieve this goal.
In the past few months, United has announced plans to work on the supply of sustainable aviation fuels (SAF), launched a direct air capture and carbon sequestration initiative and invested in future electric electric vertical take-off and landing (eVTOL) aircraft from Palo Alto-based air taxi developer Archer Aviation.
And the airline "may have some other partnerships coming", he teased.
"EVTOL aircraft flying short distances, in smaller markets with fewer people onboard is a real possibility," he says. They are "quieter, safer than helicopters, environmentally-friendly… but [they are] not replacing our aircraft".
United launched its "EcoSkies" initiative on 13 April, which allows individual customers to make a voluntary contribution with their ticket fares, that will go towards SAF as well as research and development as well as investments in start-up companies that are working on innovative new technologies to combat climate change.
"Sustainability is a really difficult problem, but it is a solvable problem," Kirby says. "We want to be a part of the solution."