United Airlines says it is expanding its October schedule to about 40% of normal, adding domestic and international destinations in order to try to profit from customers' pent-up demand after months of shelter-in-place.
The Chicago-based carrier says on 4 September that it will be flying 46% of its full domestic schedule, and 33% of its international schedule.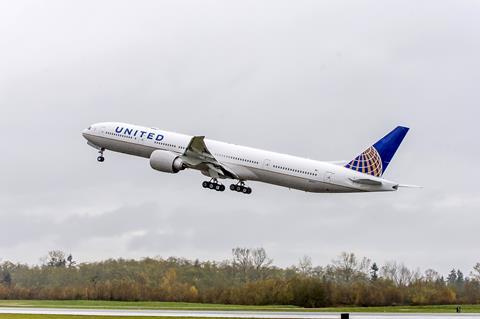 "We continue to be data-driven and realistic in our approach to rebuilding our network," says Ankit Gupta, United's vice-president of domestic network planning. "Because October is typically a slower month for leisure travel, we're adjusting our schedules to reflect these seasonal changes in customer demand while resuming service or adding capacity on routes where we're seeing increased customer demand for travel."
As the colder weather arrives in the northern hemisphere, United will add 14 leisure destinations in Hawaii, Florida and Mexico, traditional holiday getaways for winter-weary northerners, and resume service on almost 50 domestic routes, including 37 from its Chicago, Denver and Houston hubs.
Last month the carrier said it was adding 28 flights to Florida from non-hub airports in the Northeast and Midwest, in an attempt to capture more of the leisure market.
United says it will also reinstate 23 international routes. including to Latin American cities such as Buenos Aires, Mexico City, Lima, Bogota and Panama City. The carrier will also increase frequencies to Tel Aviv from Washington DC and Newark.
Operating flights to some overseas destinations like Argentina and Panama was near impossible in the past few months due to local restrictions on inbound travellers. Both countries, whose borders have been effectively sealed since the coronavirus began its global rampage, pledged to re-open in September.
Hawaii, located about 2,500nm (4,500km) from the US mainland, also effectively closed off its borders from the rest of the United States during the pandemic, thus choking off the islands' lucrative tourism industry.
The Hawaiian archipelago still requires all inbound travellers, including both visitors and returning residents, to self-isolate for 14 days upon arrival. That order, which was due to expire at the beginning of September, has been extended to 1 October Following that, the island's government plans to implement a programme that will allow visitors to bypass the quarantine requirement by presenting a negative Covid-19 test when they arrive.
United says it will resume eight routes to Hawaii once this programme is in place.
Earlier this week United said it is preparing to involuntarily furlough 16,370 employees as the airline begins to implement cost-saving measures after US government payroll assistance is due to expire on 1 October.