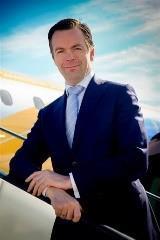 Our industry has faced downturns before but the depth of this one is epic. Predictions about the recovery profile – L, V, U or whichever letter of the alphabet is popular today – seem to change every week because we're in uncharted territory.
The economic contractions of 2001 and 2008 that hit aviation weren't defined by international border closures, mandatory quarantines, corporate directives limiting business travel, foreign travel medical insurance constraints, the purging of entire fleet types, mass layoffs, fearful travellers, high unemployment, and the risk of a repeat shock. Unfortunately, the short and medium-term outlooks are rather grim.
Yet, I'm an optimist by nature, so I often see opportunity in adversity. Despite all the doom and gloom, I believe we can learn from the past so that we can steer our way through the months ahead. Smaller-capacity airplanes have often led recovery efforts, helping airlines to better manage their cash flow and restore network connectivity.
Here are three ways I believe the 70 to 150 seat jet segment will be influential.
1. Connectivity and Market Relevance
It's essential that carriers restore their networks as soon as they can in order to generate critical cross-feed. Most markets aren't sustainable with just point-to-point traffic – they need connecting passengers to supplement local demand.
Even with fewer people travelling, carriers must still compete for their business. More destinations and frequencies increase the potential to capture a greater share of demand.
We saw this in North America in the 2001 contraction when airlines used regional aircraft to maintain service to secondary cities. Without those frequencies, carriers were at risk of losing a market to a competitor who was able to redirect passengers through a different hub.
When demand is strong, small aircraft are used to add frequencies to grow secondary markets. When demand slumps, those airplanes help protect those same markets by maintaining service. Suspending flights to a city weakens the attractiveness of a network.
Today's smaller aircraft have exceptional range that make them feasible across more of an airline's route system.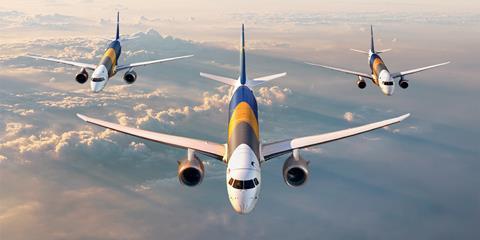 2. Cash is King
Protecting the bottom line is critical to survival. Smaller-capacity aircraft are ideal in keeping expenses under control when demand is low. With fewer seats, they can command higher fares and avoid unnecessary yield dilution. They have lower trip costs and, consequently, produce higher margins. While they may not be profitable on every route, they may lose less money than larger, half-filled 150-seat jets, and may better preserve an airline's cash flow until traffic recovers.
Managing yield is essential. The business travel component is crucial to profitability, yet it may not return as prominently as before. Economic recessions often change consumer behaviour. We're already seeing virtual meeting platforms, like Zoom, influencing the need to travel. Without those high-fare tickets, the revenue mix may change with more low-fare leisure passengers filling seats when demand returns.
3. Domestic Leads Recovery
Quarantine restrictions. Closed borders. Corporate travel embargoes. Medical travel insurance coverage. Global infection hot spots. They all add up to a reluctance to travel internationally. The corresponding drop in demand could be prolonged but it's still too early to know.
Therefore, it's no surprise to see airlines focusing on domestic and regional networks where restrictions are fewer and demand may be more resilient. In fact, we've seen our customers in Europe, the USA, China, Nigeria, and South Africa prioritize restarting operations on short haul routes with their E-Jet fleets. As traffic builds and borders open, they plan to add larger aircraft types and fly to more distant cities in their networks.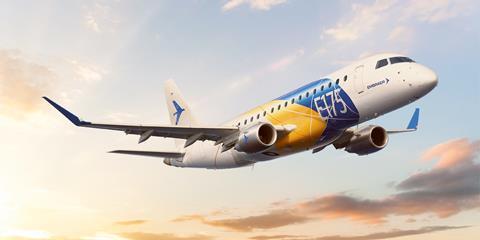 If IATA's eleven-country June survey is any indication, a rebound in traffic may be years away. Respondents didn't just cite the risk of flying during the pandemic, 64% said they would postpone travel until their own economic situation, and the world economy, too, improved. A similar percentage, 66%, said they would take fewer leisure and business trips even after the pandemic had passed.
Small-capacity airplanes may be more prevalent on domestic mainline routes if the IATA data proves accurate. The risk of a second wave of coronavirus infection as winter approaches in the Northern Hemisphere may keep demand suppressed for a while.
There are other factors re-shaping our industry.
Passenger Confidence
You've no doubt been following the extraordinary measures airlines and airports have introduced to keep their airplanes and facilities clean, and staff and passengers safe. It's not easy to communicate the efficiency of aircraft HEPA filters and carefully engineered cabin air flow that capture 99.9% of bio-contaminants. We're adding our voice to those of our industry partners and friends to get the message out.
Yet it will take more time to regain passenger confidence. The IATA survey revealed that 58% of respondents had avoided air travel, with 33% saying they will avoid flying in the future. The vast majority (84%) cited a fear of catching the coronavirus while travelling and 85% were concerned about the risk of facing quarantine.
This is sobering feedback. As IATA CEO, Alexandre de Juniac, said, "we can expect that this crisis will have a long shadow."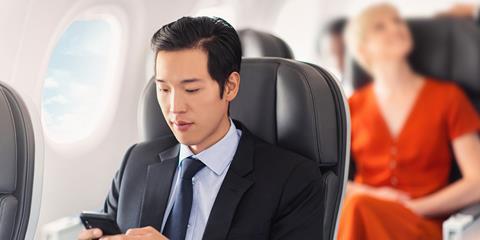 Greater Fleet Efficiency
Another outcome of the downturn is the accelerated retirement of old aircraft. Airlines are permanently parking both narrowbodies and widebodies, including the A380, even eliminating entire fleet types in favour of smaller, more efficient aircraft.
Eliminating excess capacity is a quick way to adjust to weaker passenger demand. Airlines that retain more efficient, greener aircraft, like our E2s, will be better positioned to comply with future noise and emission standards. Environmentally responsible airplanes will help keep fuel bills in check.
Our E-Jet family offers carriers a smart solution towards greater efficiency. Twenty years after they were introduced, the airplanes are still showing how they can adapt to different markets. We see this in the diverse business applications in which our customers operate the aircraft. The versatility of the family to fly in mainline, regional, low-cost and charter applications makes them particularly suited to the weaker demand period we are facing now. Excess capacity has a real cost. The concept of fleet rightsizing has never been more important.
Preparing for the Unknown
No one can predict the future. But we can prepare for the economic uncertainty and demand volatility that is sure to come. As we've seen in the past, airlines that have versatile and efficient fleets, including 70 to 150-seat aircraft, will be able to protect their networks in the downturns and more profitably seize new opportunities in the upturns.
Embraer's 51-year history is testament to the enduring viability of small-capacity aircraft. They will, once again, help chart the course through the rough skies ahead.