CAE holds around around 59% market share of installed civil full-flight simulators and training devices, FlightGlobal's latest annual Civil Simulator Census shows.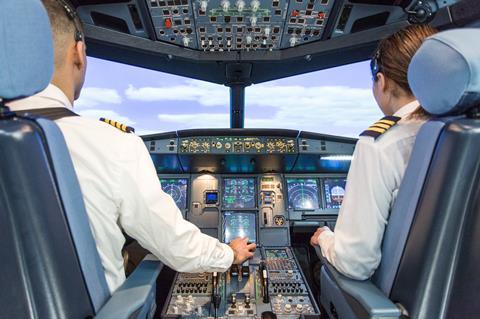 That follows the acquisition of the Canadian assets of Tru Simulation, which CAE recently acquired. The census shows Tru Simulation accounts for a little over 4% of the installed civil simulator market.
The latest Civil Simulator Census covers data for over 1,500 in-service devices, predominantly full-flight simulators. Manufacturer data is unrecorded for around 12% of these devices. CAE's market share, including Tru Simulation, rises to around two-thirds when these unknown device manufacturers are excluded.
L3Harris remains the second largest provider of civil aircraft simulators, followed by FlightSafety International.
Narrowbodies account for more than half of the all simulators and training devices covered by the census, and widebodies around 30%.
Airbus A320-family aircraft – including Neos – account for around a quarter of installed civil flight simulators and devices. Boeing 737-family aircraft, across classic, next generation and Max models, comprise 22% of the market.
Supporting documents
Click link to download and view these files