Air Canada has invested C$6.75 million ($5.07 million) to support nascent technology that could potentially pull carbon from the atmosphere at an industrial scale.
The investment loan will be used to advance carbon-capture technology being developed by Canadian climate solutions company Carbon Engineering (CE), Air Canada said on 17 November. It is also part of the carrier's plan to reduce greenhouse gas (GHG) emissions from its operations.
"We remain focused on seeking innovative, long-term, sustainable GHG emissions reduction solutions for aviation, and carbon capture is one we have outlined in our strategy to achieving net-zero GHG emissions by 2050," says Michael Rosseau, Air Canada's chief executive. "Last year, we became the first Canadian airline to sign [a memorandum of understanding] with CE to explore carbon capture scalability and other initiatives for our industry."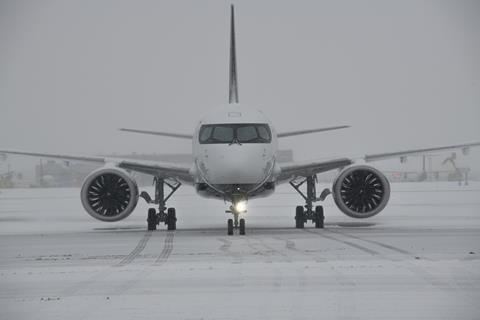 British Columbia-based CE's direct air capture technology – which remains in development – uses large fans to pull in air and a series of chemical reactions to extract CO2, releasing the rest of the air back into the atmosphere. To bring the technology to scale, CE is engineering facilities capable of capturing 1 million tonnes of carbon annually.
The captured CO2 can be reused in helping produce sustainable aviation fuel or be stored underground in "geologic reservoirs to provide carbon dioxide removals that can used to offset GHG emissions", Air Canada says.
The C$6.75 million investment in CE comes from Air Canada's C$50 million investment fund to support new technologies under its climate action plan.
In September, the airline made a $5 million investment in Swedish electric aircraft developer Heart Aerospace from the same fund. It placed a purchase order for 30 of Heart's in-development ES-30 hybrid-electric regional aircraft with capacity for 30 passengers.
Air Canada operates a fleet of 182 narrowbody and widebody aircraft produced by both Airbus and Boeing, serving 166 airports worldwide.