UK budget carrier EasyJet has signed up to Airbus's new carbon-capture programme, the first operator to reach a formal agreement over the initiative.
EasyJet had been revealed last year as one of seven operators which had tentatively agreed to explore the Airbus carbon-removal scheme.
It is based on direct air carbon-capture and storage, using technology which filters carbon dioxide emissions from the air using powerful fans and stores them in geological reservoirs.
This would enable emissions from aircraft to be offset by extracting the equivalent carbon quantity from the atmosphere.
Airbus's scheme would offer airlines carbon-removal credits as part of their broader decarbonisation strategies.
"We believe carbon removal will play an important role in addressing our residual emissions in the future, complementing other components to help us achieve our pathway to net-zero," says EasyJet group markets director Thomas Haagensen.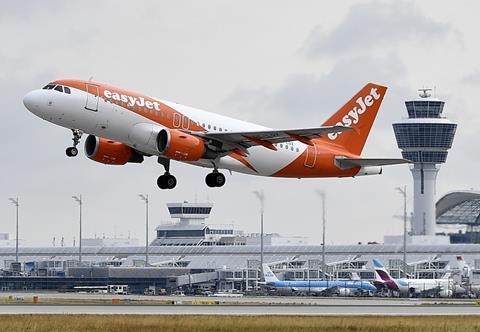 EasyJet's carbon-removal credits will run from 2026-29 and will be issued by carbon-removal specialist 1PointFive, which has several US-based facilities and sequestration projects underway.
Airbus has a pact with 1PointFive which includes pre-purchase of 400,000t of carbon-removal credits over four years.
EasyJet has become involved in several decarbonisation initiatives.
"Our ultimate aim is to achieve zero-carbon emission flying," says Haagensen.
"As well as investing into important projects like direct air carbon capture technology, we are working with multiple partners – including Airbus – to accelerate the development of zero-carbon emission aircraft technology."
Six other operators – Air France-KLM, Air Canada, IAG, LATAM Airlines Group, Lufthansa Group and Virgin Atlantic – were identified last year as having signed letters of intent for the carbon-capture initiative alongside EasyJet.
Japanese carrier All Nippon Airways was the first airline to sign a purchase agreement with 1PointFive for carbon-removal credits.
Its agreement, disclosed in August, covers 10,000t of credits per year for three years from 2025, when 1PointFive is expecting its direct air capture plant in Texas – known as Stratos – to become commercially operational.