Virgin Australia is to focus on a significant international ramp-up in the coming year, with the airline also seeing strong inbound travel demand from Chinese travellers.
Airline commercial chief Dave Emerson, who was speaking at the Aviation Festival Asia in Singapore on 28 February, said the airline "can probably grow" 50% in capacity by the 2024 fiscal year, which ends 30 June 2024.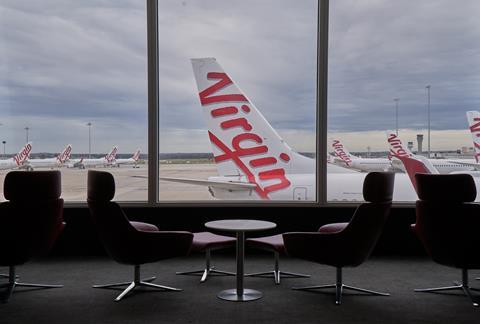 "We still have a lot of growth there," says Emerson, who notes that traffic to and from Japan will play a "big part", alongside an expansion of its Pacific Islands network. The airline is marking its return to the Japanese market in June with daily flights between Cairns and Tokyo Haneda, operated by newly-delivered Boeing 737 Max 8s.
Emerson says the airline is also seeing healthy demand in inbound traffic from codeshare partnerships. Virgin Australia has codeshare agreements with airlines like United Airlines, Singapore Airlines and Qatar Airways.
"We are almost at the same volume pre-Covid of international passengers [from codeshare partnerships] flying domestic with us, and we actually see that going past, so we're quite bullish," says Emerson.
Chinese inbound demand, in particular, is set for a significant increase in the coming months, following Beijing's decision to drop most of its 'zero-Covid' restrictions in January.
Virgin Australia does not fly to China, but taps on its airline partners for feeder traffic. Emerson says in February, demand is only at about 30% pre-pandemic levels, but is forecast to be around 70% by mid-year.
The airline hopes to grow the number of international airline partners in the near-term, though Emerson declines to state which airlines it is looking to work with.
On domestic operations, Emerson says the airline is already close to pre-pandemic capacity, and is still set to grow about 5 to 10% in capacity over the next year.
Since exiting administration in 2020 under new owners Bain Capital, Virgin Australia has changed its operating model to a mid-market operator, focusing on domestic and short-haul operations with a fleet of Boeing 737s.
Emerson's comments come as the airline is seeing its operations turn profitable two years after restructuring, and as it mulls being relisted on the Australian stock exchange. The airline in October 2022 said it was on track to return to profitability for the year to 30 June.